EDIROL today announced the release of two new USB MIDI keyboard controllers, the PC-50 (49-note) and PC-80 (61-note) to address the need of simple yet efficient operation for music students and home studio musicians. Both the PC-50 and PC-80 models use the same high quality keyboard mechanism that makes the Edirol PCR-M series of USB keyboards such a pleasure to play. With low mechanical noise, 12 selectable velocity curves and excellent build-quality, the playability of the two new USB keyboards is their distinguishing feature.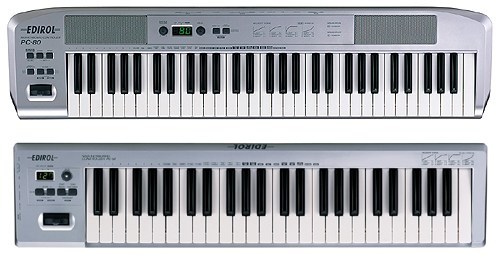 The PC-50 is a true "use anywhere" MIDI keyboard that can instantly be powered via USB as well as battery (4xAA) or an optional AC adaptor. All connections are mounted on the left side panel making the keyboard fit easily in front of a computer monitor or where space is constrained. Suggested retail price is $185.


The PC-80 is equipped with a built-in USB Audio Interface and a speaker system for a complete audio & MIDI solution, making it ideal for the education market.


By offering 24-bit/96kHz USB Audio capability, low-latency driver support for Core Audio, WDM, ASIO 2.0 and OS standard drivers, and onboard 2W+2W stereo powered speakers, the PC-80 and your computer is all you need to practice and to create music. To complete the package a premium GM2 software synthesizer, developed with genuine Roland sounds, is also included. Key-splitting and Layering in the PC-80 offers an easy way to play multiple instruments on different sections of the keyboard. A dedicated "Software Synthesizer" button on the PC-80 allows you to instantly call it up on your computer screen where you can start playing immediately. Suggested retail price for the PC-80 is $495.


For more information on Edirol products please visit www.edirol.com or check out our product pages for the PC50 and PC80 (links below) for more details and product images.