EDIROL, the first company in the world to release a USB 2.0 audio interface with the introduction of UA-1000 – is now proud to announce their latest USB 2.0 product – the UA-101. Building on technology development achieved through a series of successful USB Audio products, the UA-101 represents Edirol's very latest compact audio solution for PC, providing 10-in / 10-out, 24-bit/96kHz full duplex audio with MIDI I/O in a compact half rack unit. Powerful, low-latency drivers with WDM and ASIO 2.0 support complete the package.


The Edirol UA-101 allows simultaneous recording of 10 channels of audio at 24-bit, 96kHz, or up to 6 channels of audio at 24-bit/192kHz. Two high quality mic pre-amps allow you to record directly into the UA-101 through the XLR/TRS combo jacks. One XLR/TRS combo jack is equipped with a Hi-Z input to easily connect a guitar or bass without the need of a direct box. To ensure that your input signals stay within acceptable levels there is an analogue limiter letting you get the maximum from the inputs yet still record without clipping. A further 6 TRS jacks provide balanced inputs that are switchable between +4 or -10 dBu, allowing matched input from any line level source. Finally there are optical S/PDIF in and out ports for your digitally-equipped audio devices.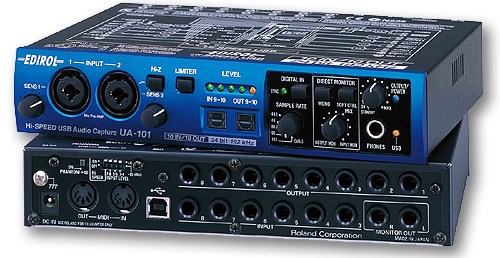 For outputs there are 8 TRS balanced jack, the S/PDIF outs plus an extra L + R monitor output – great for separating a cue mix from the main output mix. You can monitor directly from the inputs via the included software mixer and router for true zero latency monitoring or switch to monitor via your audio software. All settings and routing can be made through the Control Panel software for amazing routing freedom.


The USB port is switchable between USB 2 and 1 so that the UA-101 can even be used as a stereo audio interface with Mac and Windows computers not equipped with USB 2 ports.


Suggested retail price for the UA-101 is $695 with availability in early June. For more details and product images please visit our poduct page (link below).