Spectrasonics announced the release of Burning Grooves a Groove Control™ activated S.A.G.E. Xpander library for their acclaimed Stylus RMX virtual groove instrument. The company recently released four other Xpanders based on their award-winning Backbeat, Retro Funk, Liquid Grooves, and Metamorphosis collections. The release of the Burning Grooves Xpander is the first time the popular drum groove collection has been available with Spectrasonics Groove Control™ development technique, that allows playing the audio loops in an extremely wide range of tempos with no loss in audio quality. All the S.A.G.E. Xpanders, including Burning Grooves, have a US retail price of $99.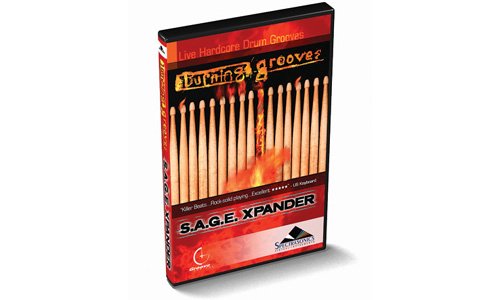 The Burning Grooves Xpander includes aggressive live drum grooves laid down by reknown drummer Abe Laboriel Jr. whose credits include Paul McCartney, Sting, Seal, Me'shell Ndegeocello, Chris Isaak, Steve Vai, k.d. lang, Jeff Beck, Joe Sample and Scritti Politti among many other top artists. Burning Grooves also features extreme re-mixes of Laboriel's amazing musical performances by producer Eric Persing.


"Abe's intense performances on Burning Grooves are considered classics," said Spectrasonics Founder and Creative Director, Eric Persing. "It's really exciting to now be able to use these killer grooves directly in Stylus RMX. I know our users are going to love all the new material and patches we've created just for this Xpander — we really had a lot of fun creating all the extras on the DVD-ROM. In style and approach, Burning Grooves is very complementary to the all the other Xpanders and the RMX core library. There's really nothing else with quite this attitude!"
Burning Grooves offers versions of the grooves played without kick drum and without snare drum for maximum flexibility in customizing the grooves to your music. This technique allows you to create your own kick or snare patterns within the loop, on breakdowns, and also makes it much easier to layer Burning Grooves with other loops. Separate fills and intro loops are available to help smooth transitions, and create a "live vibe."


The Xpander DVD-ROM also includes a brand new "Acoustic Groove Elements" directory of isolated kick, snare, sidestick, hi-hat and ride cymbal grooves that can be interchanged with loops that do not include kick or snare in them – and can also be used to easily create custom grooves from the ground up. Over 130 new multi patches included on this Xpander take advantage of combining the Burning Grooves loops with many of the advanced features of Stylus RMX, like the new effects system and Chaos Designer. All the new patches and acoustic groove elements were created especially for the Burning Grooves S.A.G.E. Xpander version.


All five Spectrasonics S.A.G.E. Xpanders are now available worldwide through all authorized Spectrasonics' international dealers: Burning Grooves, BackBeat, Liquid Grooves, Retro Funk and Metamorphosis. Each S.A.G.E. Xpander's suggested retail price is $99US.