Camel Audio have released PhatSpace – a bundle of two new multi-effects, designed for musicians not engineers.

Stunning graphical user interfaces grace both plugins, putting all the controls at your fingertips, while the X/Y pad controllers allow easy real-time manipulation of the most important parameters.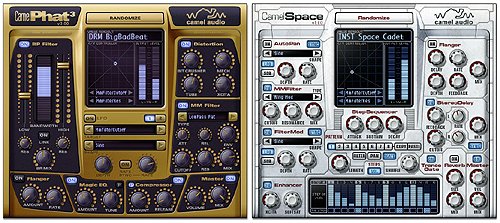 CamelPhat 3:</B

CamelPhat is the ultimate phattening processor! A powerful 'colouring' multi-effect that's been specially engineered to work wonders on guitar, bass and drums, adding warmth, punch and presence wherever they're required. Four characteristically different distortion effects are included, which can be used separately or blended together to create an endless variety of tones.


The unique 'Magic EQ' enhances the low end like nothing else – it's the perfect kick drum sweetener. Add to that an easy-to-use analogue-modelled compressor, three resonant filters, two LFOs and an envelope follower, and you've got one seriously phat package!


CamelSpace:

Prepare to be entranced! CamelSpace can take any sound you throw at it – be it a pad, a synth line or a drum loop – and generate a dizzying array of dynamically-evolving, gated rhythmic textures. An enormously powerful 128-step 'trance gate' sequencer controls panning, filter cut-off and volume, while independent LFOs provide still more mind-boggling modulation options.


A tempo-synced stereo delay and powerful auto-panner ensure that your sounds are always on the move, while an enhancer (with 'Xcita' and soft saturation), a flanger and a high-quality reverb all add 'sparkle'.
Both plugins feature an intelligent 'Randomize' function which ensures that new sounds and inspiration are just a click away. 128 attention-grabbing Presets, organised by category, are also provided for each.


The PhatSpace bundle is available for Windows and Mac OS X (VST and AudioUnits) and costs just USD 149 / EUR 115 / GBP 79 (or USD 85 / EUR 65 / GBP 45 for each plugin). Head over to www.camelaudio.com to download the free demo, listen to MP3s. Or check out our product pages for CamelPhat 3 and CamelSpace (links below).