If you enjoy clicking through layers of windows to create music, then Tracktion software is definitely not for you. It won't pretend to be a mixing console… It doesn't have cute 3D racks or patch cables… It doesn't contain a single instrument icon… Instead, Tracktion lets you get right to the business of making music using a single interface for everything — from audio recording and MIDI production tools to mixing and mastering. It's revolutionary concept, as evidenced by thousands of fervent users and dozens of glowing reviews. And now we've made it even better.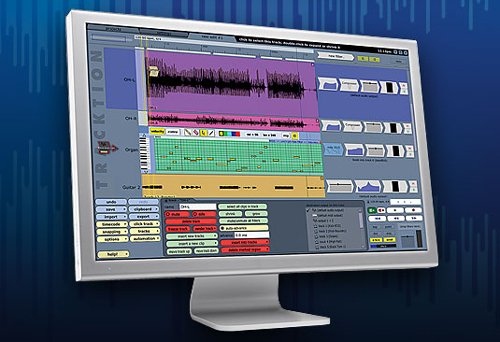 Tracktion is a revolutionary, easy-to-use music production application that contains everything most people will ever need to professionally record and mix music on a Mac or PC – without all the hassles and limitations of other audio software. Tracktion's hallmark is a clean, single-screen interface and streamlined operation, whether you're recording tracks, MIDI programming, or mixing down songs. It offers rock-solid operation, VST and ReWire support, and very low CPU usage with operating systems ranging from Mac OSX to Windows 2000 and XP. And it contains a whole host of professional features that you can actually use from day one.
Features:

• Unlimited track count (Depending on your computer's CPU)

• Support for sample rates up to 192kHz

• Importing and exporting of all major file types

• Simple drag-and-drop audio editing

• Track freezing for conserving CPU power

• VST instrument and plug-in support

• ReWire™ support for use with Reason™ software

• Powerful MIDI programming and editing with step recording

• Built-in Quicktime™ support

• 64-bit mix engine for superb sound quality

• Built-in sampler

• MIDI mapping for external controllers

• MTC input/output, MIDI Clock output, and MMC send/receive

• Powerful project management features

• Full suite of name-brand plug-ins from IK Multimedia, Lin Plug, reFX, Bismark, Acuma Labs, Raw Materials and more


More information available at www.mackie.com or check out our Tracktion 2 product page (link below).