TC Electronic announces the Restoration Suite 2.0 update, which includes the new DeThump plug-in. Restoration Suite for PowerCore offers all of the key-components required to restore vintage or otherwise damaged recordings, from broadband noise reduction to click or scratch removal. With the new 2.0 update, Restoration Suite includes five real-time plug-ins: DeScratch, DeNoise, DeClick, DeCrackle, and now DeThump, which can be used with any VST, AU or RTAS* compatible audio system. Restoration Suite 2.0 will be available in June 2005 at EUR 1495 retail ex. VAT. The upgrade will be free of charge for existing users via the TC web site.

The series of System 6000 stereo plug-ins will now be available for Pro Tools HD. Today, Digidesign's HD DSP card provides a processing infrastructure powerful enough to host a choice selection of stereo reverbs and mastering tools from TC's flagship system. With the new TDM plug-ins, TC Electronic will be making a strong contribution to the Pro Tools platform and continue the pioneer work that started with MasterX and TC Tools.
TC Electronic announces another high-end reverb from System 6000 that will be available for DAW users with PowerCore. DVR2 is a Digital Vintage Reverb, which adds spaciousness and degrees modulation to the mix. The vintage reset function produces a sound very close to a well preserved EMT250, which is still widely used on lead vocals in studios around the world. Years of research have been put into recreating the EMT250 reverb, which makes the DVR2 perfect for situations where the sound of the reverb itself is part of the mix. DVR2 will ship in June 2005 at EUR 395 retail ex. VAT.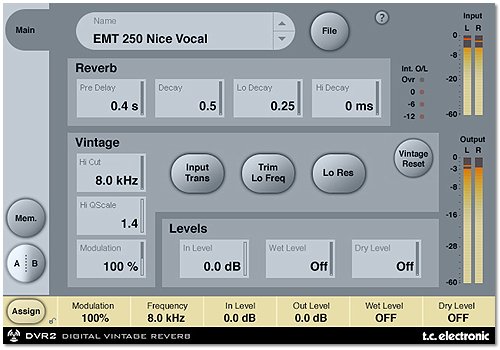 The PowerCore PCI mkII card announced at Musikmesse in Frankfurt 2005 is now shipping. With a combination of 14 state-of-the-art processing plug-ins and 4 x 150 mHz DSPs, the new blue-colored PCI card offers new processing options for any professional sound engineer with a VST, AU or RTAS* compatible audio system. The software bundle that comes with PCI mkII, includes the same quality 14 plug-ins as the PowerCore FireWire: Classic Verb, Mega Reverb, Chorus∙delay, EQSat Custom, Vintage CL, 24/7 C, Voice Strip, PowerCore 01, Tubifex, Master X3, Filtroid, Character™, Dynamic EQ, and DeNoise. PowerCore PCI mkII is shipping now at EUR 1140 retail ex. VAT.