Waves Ltd., a leader in audio processing, has announced two hardware accelerators that let users easily run multiples of the companies most CPU-demanding plug-ins. The APA products offer a new paradigm that uses Ethernet connections and switches to enable stacking several APA units together and even sharing them among several DAW workstations. There are two models of APA. The APA32 is a 1U rack-mount unit, while the APA44-M, a half-rack unit that features up to 30% more processing power and nearly silent operation, is ideal for mobile use. A kit enables two APA44-M units to be mounted in a 1U rack space. The APA units are connected to the host computer via a standard Ethernet port. Up to eight units can be used together with an Ethernet switch. The units can also be shared among several DAW workstations via a suitable V-LAN configuration, with each workstation accessing up to eight APA units.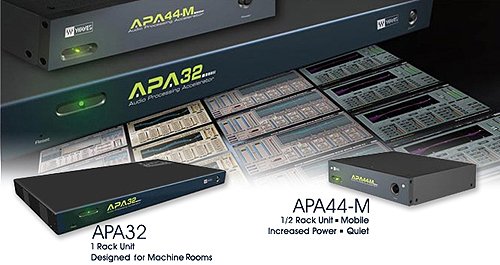 The APA system uses Waves new Netshell software, which is included in every new Waves bundle that contains Netshell-compatible plug-ins. No special authorization is required for Netshell or for an APA unit; APA users just need to update their authorized Waves plug-ins to Netshell supported versions, and they are ready to go. This represents a major step forward from conventional DSP approaches that require a card in the computer or that are tied to one particular system.


The APA units are an economical solution to running multiple CPU-demanding plug-ins. For example, an APA32 can run 6 IR-1 Convolution Reverbs, or 9 Linear Phase Equalizers, or 12 C4 Multiband Processors at 44.1 kHz. The APAs flexible and shareable power, accessed via an established network standard, is what sets the APA apart from other approaches to the challenge of providing extra DSP muscle to a workstation. The use of conventional high-speed Ethernet also means that the APA can be more easily shared in a facility and remotely located.
Initially the APA-compatible Waves plug-ins are the L3 Multimaximizer, L3 Ultramaximizer,
IR-360 Surround Parametric Convolution Reverb, IR-1 Parametric Convolution Reverb V2,
IR-L Light Convolution Reverb, Linear Phase Equalizer, Linear Phase Multiband, C4 Multiband Parametric Processor, Renaissance Reverb, Renaissance Channel, SoundShifter, Morphoder, TransX and Q-Clone.


Release 1 is compatible with both Mac and PC, and supports the most popular DAW systems. On the Macintosh, these include ProTools 6.9, Cubase SX 3.0.2, Nuendo 3.0.2, Logic Pro 7.1, and Digital Performer 4.52. On PCs, these include ProTools 6.9, Cubase SX 3.0.2 and Nuendo 3.0.2.


For a limited time only, APA customers will receive Waves' popular IR-L Light Convolution Reverb and Q-Clone plug-ins free of charge — a $1600 value. Waves APA units have particularly attractive pricing, with the US MSRP of the APA32 at $1600 and the APA44-M at $2400. They are available beginning in June 2005.


For more information please visit www.waves.com or check out our APA product pages (links below).