The String Studio synthesizer trades the traditional oscillator, filter, and envelopes for real-life string instrument components. At the core of String Studio lies cutting edge string models interacting with picks, bows, hammers, fingers, frets, dampers, and soundboards. Through this direct approach, String Studio delivers stunning guitars, basses, harps, clavinets, bowed instruments, percussion as well as rich and animated tones that blend the warmth, naturalness, and density of real-life with unique and innovative timbres from yet unheard instruments.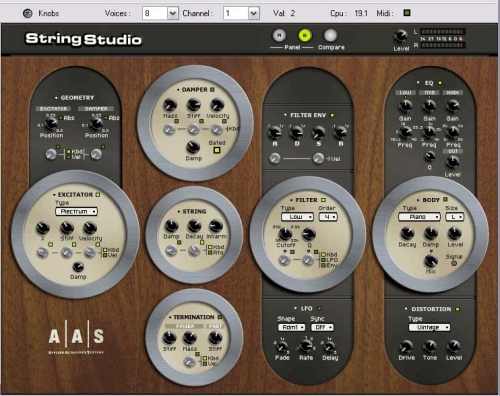 Tons of Presets, Fantastic Fidelity, and a Whole New Sound!
Absolutely wild possibilities abound, all with organic, earthy undertones that set String Studio apart from any other synthesizer. A true morphing of the real and the unreal. Don't miss it!
Any current registered user of an AAS product, including Tassman™, Lounge Lizard™, or Ultra Analog™, can get String Studio for a special price of $199, through July 1st only. That's a $50 savings from the regular price of $249. You may also purchase String Studio with any other normally-priced AAS product to receive this special offer. (No other discounts or offers may be applied.)
Go to www.ilio.com and click on the HotSpot to hear a demo of String Studio. Then click the hotlink to find out much more about String Studio