SoftPlug recently released their New Adventus 1.5 with a major update. Discover all the new exciting features. The Adventus is easy to use for beginner or pro synth players, you will be totaly inspired by the sound and the presets when come the time to create or play music.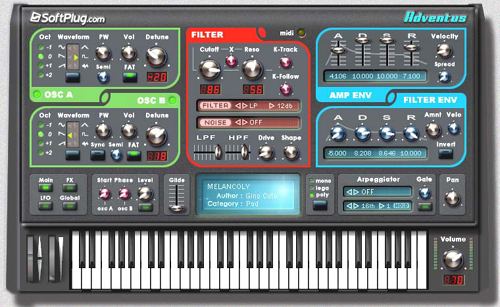 Cool new stuff:
– arpeggiator
– better chorus
– new phaser and ensemble fx
– use less CPU
– new flip flop pan option
– Phase Mod (instead of ring mod)
– Improved filter
– Filter respond to velocity (very cool)
– X-knob, modify resonnance curve. turn left and the resonnance decrease as the cutoff increase. turn right and the resonnance increase as the cutoff increase.
For more information and a free DEMO download, go to the download page at the Softplug website.