Ladies and gentlemen, AudioFile Engineering is proud to announce the public beta of Wave Editor! Wave Editor takes advantage of lots of new features in OS X 10.4 (Tiger) – specifically DSP and interface improvements – so be sure you get it before you try it!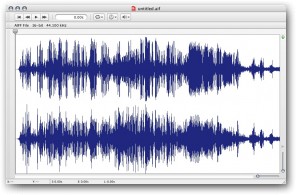 Wave Editor is THE audio editor for Mac OS X. Designed in Cocoa from the ground up, Wave Editor proudly takes advantage of CoreGraphics, CoreAudio, and other solid OS X features. Wave Editor takes over where Peak* and Spark* left off – incorporating the standard audio editing features you're used to working with while bringing you up-to-date with the latest advances in interface design, speed and stability, without compromising the power.
Wave Editor introduces for the first time the concept of "layered audio". Layer portions of audio (in any format), Audio Units and fades on top of each other, edit to your heart's content, then flatten your file to get a result that would have taken much longer the old-fashioned way! Wave Editor includes an advanced Inspector, statistical analyzer, audio processing, three advanced meters, full support for Audio Units, bezier curve-based fades, support for MP3 and AAC, and much much more!
Wave Editor requires OS X 10.4 (Tiger), and is available now as a self-expiring public beta version. Details about purchasing Wave Editor will be forthcoming.
Download this beta version (1.0rc1) at the AudiFile Engineering website.