IK Multimedia is proud to announce the launch of the official Miroslav Philharmonik website. All news and information about the highly anticipated release and detailed features of the orchestral workstation from IK are now available. The new Miroslav Philharmonik website is filled with audio examples and product information, along with press material, videos, historical information and image downloads.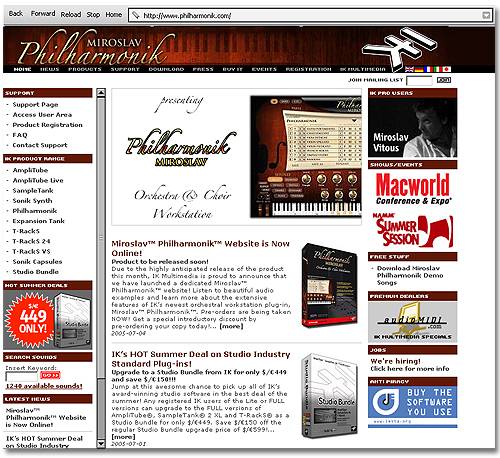 In the product page, learn more about the features and easy to use interface. Also, listen to audio examples of different sounds from each category of instruments offered in this extensive plug-in. Check out the beautiful Dvorak Symphony Hall where the original library was recorded, watch the video and get a closer look and feel! Learn more about Miroslav Vitous, who created the original recordings, in the Miroslav Vitous Bio and Discography page. Audio examples of beautiful symphonic arrangements made with Miroslav Philharmonik can be downloaded and listened to from our demos section. Take this opportunity to be amazed and awed by the sounds and features available to you from IK's Miroslav Philharmonik.
Miroslav Philharmonik will have an introductory price of €419/$499 for the full version and €299/$349 as a crossgrade price for registered SampleTank 2 L/XL users. After the introductory price period is over, the price will be €499/$599 for the full version and €329/$399 for the crossgrade. Pre-orders are being taken.

For more information go to the Miroslav Philharmonik website.