Originally released on May 25 2005, FabFilter has released Volcano version 1.10. This update is free for existing FabFilter Volcano users. If you have not bought FabFilter Volcano yet, version 1.10 grants you a new evaluation period to try the new features.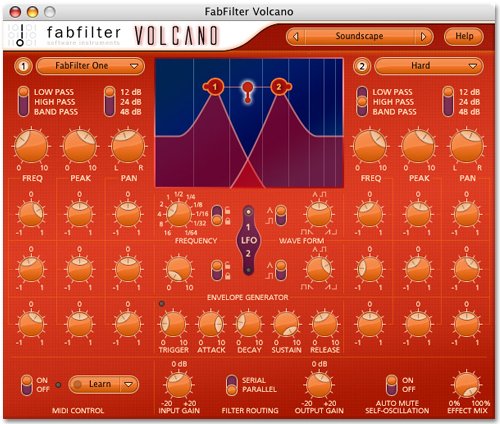 Volcano version 1.10 incorporates the following important new features:
– EG MIDI note-on triggering
– LFO MIDI note-on triggering
– Filter frequency MIDI note-on triggering
– Dotted/Triplets mode for the LFOs
– Option to link the cut-off, peak and panning knobs for both filters
– Two new filter characteristics 'Gentle' and 'Extreme'
FabFilter Volcano is a versatile filter effect plug-in for Windows and Mac OS X. FabFilter Volcano stands out with many modulation options and above all FabFilter's unique digital
filter technology that results in extremely smooth and analog-sounding filters.

FabFilter Volcano is available for $139 (US) as an Audio Units plug-in and a VST plug-in for Mac OS X and as a VST plug-in for Windows on www.fabfilter.com.

An evaluation copy of Volcano is available at The Fabfilter website.