M-Audio is, as the exclusive worldwide distributor, proud to announce the release of Way Out Ware TimewARP 2600 virtual emulation of the classic ARP 2600 analog synthesizer. TimewARP 2600 faithfully replicates every detail of this venerable instrument. TimewARP 2600 virtual emulation of the classic ARP 2600 analog synthesizer, already available in RTAS format for Windows and Mac, will soon be released in VST and AudioUnit formats as well. It can also be used standalone.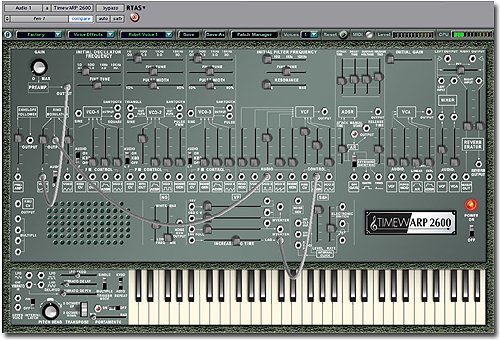 The TimewARP 2600 is the only ARP 2600 emulation endorsed by the creator of the original instrument, Alan R. Pearlman, who provided input and comments during the product's design. "The TimewARP 2600 is an important evolutionary step in analog synthesis," says Pearlman. "Way Out Ware's software package not only makes analog synthesis affordable, but also opens the way toward continuing evolution of functionality."
In addition to faithfully reproducing the original's monophonic operation, the TimewARP 2600 offers polyphony of up to 8 voices. The TimewARP 2600 ships hundreds of patches spanning leads, basses, sound effects, evolving sonic textures and much more that allow musicians to access the instrument without knowing a thing about synthesis, There is no limit to the number of patches users can create and save. In addition to comprehensive import and export abilities, the TimewARP 2600 includes a sophisticated Patch Manager for sorting presets. The TimewARP 2600 also responds to MIDI bank-select and patch-select commands for total control.
The presence of an audio input on the TimewARP 2600 also makes it a unique signal processing effect. Effects such as a one-of-a-kind vocoder can be realized by routing a track or live mic or instrument input from an audio interface to TimewARP's audio input for use an oscillator, LFO modulator, control voltage and so forth. (Pete Townsend used this ability to drive the guitar sound in The Who's "Who Are You.")
TimewARP 2600 integrates seamlessly with most popular host applications on Mac and PC via RTAS, VST and Audio Units implementation. It also functions in standalone mode for use with a controller live or in the studio. Under MIDI control, the internal clock can synchronize to MIDI Beat Clock for LFO and triggered effects that match the beat of a session.
Minimum system requirements are Mac OS X 10.3 or greater, 1GHz; Windows XP, 1.5GHz, 256MB RAM, and 1024 x 768 screen resolution. TimewARP from Way Out Ware is expected to ship in July at an MSRP of $249.95.