Numark is pleased to announce that its flagship TTX turntable has been significantly upgraded with a new and improved, direct-drive motor boasting variable torque making this feature packed turntable the worlds first and only model with this unique capability. Already the turntable of choice among professional club, scratch, and mobile DJs, the new TTX also features a brand new digital control section and an improved target light.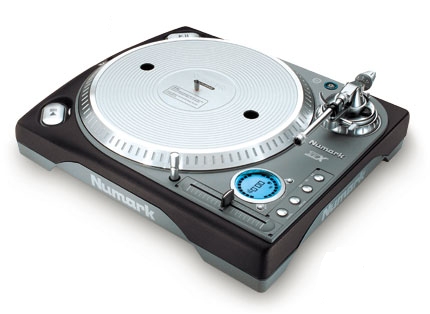 The TTX's new variable torque motor offers three settings: Low (2.5 kgfcm), Medium (3.7 kgfcm), and High (4.7kgfcm). These three torque settings are tailored to different styles of spinning—providing DJs greater opportunity for expression via the most comprehensive and versatile turntable available. In its High torque setting, the TTX delivers the most torque available in its class and serves as the benchmark for the industry.
Further improvements to the TTX include a new digital control section. With its enhanced motor control DSP, the TTX delivers rock-solid pitch stability. Additionally, this exceptional turntable incorporates an improved strobe target light that can be rotated depending upon the head shell position and the amount of light required on the vinyl record surface. Of equal importance, the new TTX runs cooler than previously, providing outstanding reliability.
Additional cutting-edge features of the TTX include interchangeable tonearms, with both straight and S-shaped tonearms for heavy scratching or high fidelity spinning included. The TTX also offers modular Pitch Fader and Button cartridges that can be repositioned to accommodate normal horizontal or vertical "battle mode" turntable placement.
A powerful Key Lock feature enables DJs to retain a specific key—even one different than the original—while also continuously changing tempo. Pitch range is adjustable to ± 8, 10, 20, and 50%, and playback speeds include 33, 45, and 78 RPM. Direction is reversible via a dedicated button, and two Start/Stop buttons are provided. Pitch, RPM, BPM, and motor settings are clearly indicated on the TTX's vibrant, blue illuminated display.
The TTX offers an S/PDIF (coaxial) digital output for direct connectivity to CD-R devices and similar electronic equipment, as well as selectable phono or line level analog outputs without a ground wire. The turntable is housed in a solid core steel enclosure with a rubber base that is optimized for damping vibrations and eliminating undesirable noise.
Numark CEO John E. "Jack" O'Donnell commented on the newly improved TTX, "The TTX has always offered incredibly smooth and powerful performance, and with the addition of variable torque, this outstanding turntable provides even more creative options for today's DJ. We are very pleased to be able to offer this enhancement to our flagship product."
With a suggested retail price of $629, Numark's TTX turntable offers a wealth of creative options for the demanding DJ. The TTX is now shipping.