Scarbee has released an update of Vintage Keyboard FX. Vintage Keyboard FX VST/AU plugin is a virtual rack packed with outstanding models of a range of different vintage analogue effects processors. Vintage Keyboard FX updates for PC and Mac formats are available to registered users at the Scarbee website.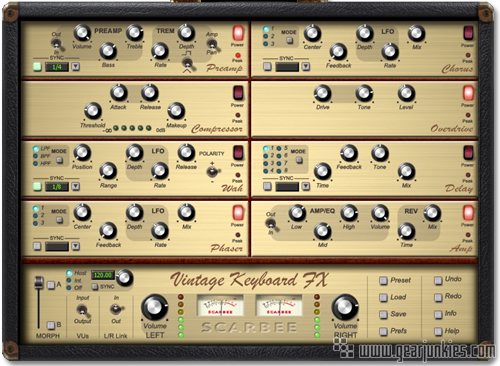 Bug fixes:
– The AU version (Mac only) now gets saved and restored with the AU host song.
– The AU version (Mac only) now correctly loads Presets.
– The AU version (Mac only) has been briefly tested with Logic v. 6.x and worked, but we just are compatible with Logic 7.x or more recent versions (Apple changed AU implementation a lot between versions 6 and 7 of Logic).
– Renamed a preset (Supertramp -> Superwamp), and removed all those ".vkfx" extensions from preset names (Mac and PC).
A free DEMO of VKFX is available here. Registered users can download the free update here.