Elemental Audio Systems released The big brother you need – the InspectorXL analysis plug-in suite. InspectorXL (a.k.a. IXL) is a new approach to analysis and was designed to address the most common analysis tasks with professionalism, style, and finesse.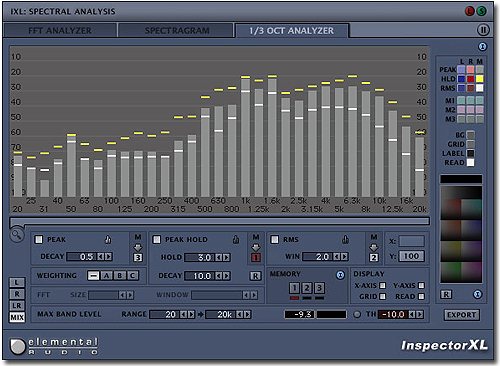 Available as a series of "modules," InspectorXL includes six (6) individual, thoughtfully designed plug-ins for: FFT, spectragram and Third Octave spectral analysis, custom and standard level metering, phase and correlation, balance, stereo image, and statistical clipping and over analysis. From top to bottom, InspectorXL provides a comprehensive, flexible, and easy-to-use approach to your daily analysis tasks.
InspectorXL highlights:
• FFT Analyzer
• Spectragram
• Third Octave Analyzer
• Lissajou/XY, Vector, and Polar Phase Scope
• K-System Meter
• Digital PPM Meter
• Custom Metering
• Vertical and Horizontal Level Meters
• Stereo Image (Mid-Side) Meters
• Balance Meter
• Correlation Meter
• Comprehensive Alarms
• Integrated Color Picker
• Completely Customizable
All native plug-in formats (Mac RTAS/VST/AU and Win RTAS/VST) are included with purchase. Inspector XL has an introductory offer of $49 (regular price $219/Euro 180). A DEMO is available at the Elemental Audio Systems website.