Combining their award-winning turntable, CD player, and mixer technologies, Stanton has introduced four new packages that each provides comprehensive solutions for DJs. The DJLab.1, DJLab.2, DJLab.3 and DIGIPAK PRO include everything DJs need for performances.
DJ pack pro: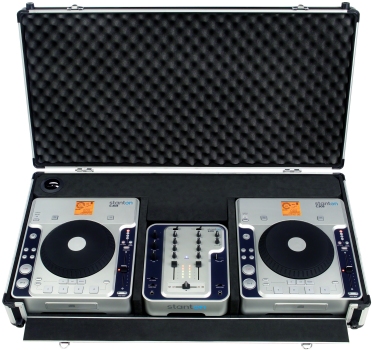 ³Our DJ Packs have always been an important staple of our product line,²
says Henri Cohen, Stanton¹s VP of Sales & Marketing. ³The nature of being a
DJ involves the use of several tools being used simultaneously, so it makes
perfect sense for DJs to get a complete solution in a single convenient
package, with each component designed to work seamlessly with the others.
The four new Stanton DJ packs respectively provide just the right set of
tools for various types of DJs at different levels of professionalism.²
Designed for aspiring DJs on a budget, the DJLab.1 is the most affordable of
Stanton¹s new DJ Packs. It includes two T.50 turntables with slip mats and
dust covers, two Stanton 500B carts pre-mounted on headshells, the new M.201
2-channel mixer, and one set of DJ PRO 80 phones, as well as all the
necessary cables.
The DJLab.2 is the same as the DJLab.1 with the substitution of two T.60
turntables, for DJs who prefer the precision of a direct-drive turntable.
Stanton¹s DJLab.3 raises the bar for both mix and scratch DJs by combining
two T.80 turntables, which employ a digital direct drive system as well as
high torque. The DJLab.3 also includes the new Stanton M.202 mixer, which
offers a 2-way crossfader curve for mixing or scratching applications. Like
the other Stanton DJ Packs for turntablists, the DJLab.3 also provides
headphones and all required cables.
For DJs who want a comprehensive, all-in-one package for mixing CDs, the
DIGIPAK PRO is the perfect choice. It features two C.303 tabletop CD players
with large jog wheels for easy cueing, along with an M.202 mixer and a
custom road case. All cables are also provided.
All four of Stanton¹s new DJ Packs will be available in September from
Stanton¹s authorized retailers.