Steinberg Media Technologies GmbH is pleased to announce Studio Case 2, the successor to its highly successful Studio Case product. Featuring a brand new version of Steinbergs Cubase SE budget sequencer and special versions of six Steinberg VST instruments, Studio Case II will be available for Mac and PC from September 2005.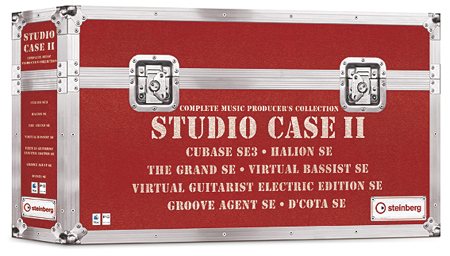 "This product sets standards for functionality available to entry-level customers in this price segment," says Arnd Kaiser, Steinberg's Senior Product Manager for Music technology. "Cubase SE3 is definitely the best budget sequencer Steinberg has ever produced, and the included VSTi's provide enormous creative potential," Kaiser continues.
Cubase SE3 is the latest version of Steinberg's legendary music production software. Using technologies from Steinbergs award-winning Cubase SX3, Cubase SE3 offers the same 32-bit floating point audio engine, automatic latency compensation and advanced user interface as its larger siblings. A full range of audio and MIDI effects is also included, further adding to the creative potential of Cubase SE3.
Studio Case II also offers entry-level versions of some of Steinberg's most successful VST instruments. Almost all conceivable aspects of modern music production are covered by the special SE versions of Groove Agent, HALion, The Grand, Virtual Guitarist Electric Edition and D'cota. A brand new Virtual Bassist SE version of Steinberg?s new bass player VSTi provides dynamic, lively bass grooves suitable for a huge range of musical styles.
Price and availability:
Studio Case II will be available for euro 279.00* from September 2005 (*SRP includes 16% German VAT, price subject to regional variations).