Ueberschall has released the anticipated second entry in their Liquid Instruments series. The L.I.S. bass edition contains a great range of styles played on 78 Musicman Stingray, 77 Fender Jazz Bass (Maple neck) and 62 Fender Jazz Bass (Fretless). stylistically, the bandwith spans funk, soul, disco, house, pop, rock, beat through jazz, nu jazz, latin brazil, styles up to downtempo, lounge and easy listening and many more.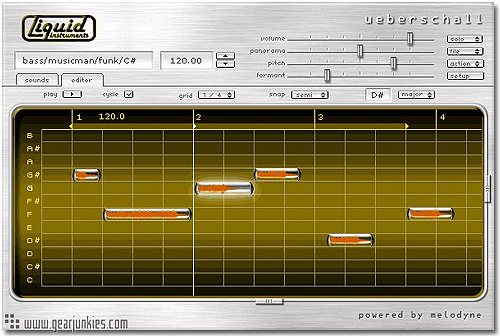 Ueberschalls Liquid Instrument Series (L.I.S.) in close cooperation with Celemony (Melodyne) have developed this hot new tool. L.I.S. offers you a whole new array of features to control and redo sampled material. Make your selected phrase sound the way you want it to! Enter a new world of music technology! L.I.S. opens up unimagined ways of controlling existing musical phases in realtime.
Parameters such as single note pitches, formants, note lengths, scales, tempo, start and endings can now be edited easily and directly to suit your arrangement. Quick and simple access, just like having the studio musician right next to you, responding to your desires in expression and phrasing. Unchanged high-quality sound even after intense processing. In this combination of first-class samples with the unique Melodyne functions you can create countless variations – from simple licks and phrases to complete solo lines.