Demon kick-start the new season with the exciting announcement of the advanced DN-S3500 CD/MP3 player from Denon DJ.Making its debut at this years PLASA Show in London, the new professional direct drive CD/MP3 player offers several world firsts.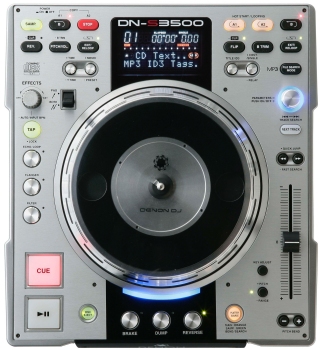 DJ's will be impressed by Denon's all new proprietary 12-pole Direct Drive brushless motor design, delivering instant full rotation speed with a powerful 2.5kg/cm of start-up torque within 0.5 secs. This gives true turntable reaction and response, allowing the DJ to perform as freely as if he were using a genuine vinyl turntable.
A further major bonus is that the DN-S3500 now gives the DJ an option in the way he sets his CUE points, supporting the traditional Denon cueing method (as well as the Pioneer protocol).
Denon have ensured that building the mood on the dancefloor (and remixing on the fly) is a piece of cake, thanks to the product's on-board effects. These provide full parameter control with a unique Dry/Wet mix control knob of the four effects — Flanger, Filter (High-Mid-Low), Echo and the world's first Echo/Loop. The three platter effects include: Brake (adjustable in real-time); Dump (reverse sound without losing true forward time) and Reverse (allowing the platter to spin backwards). The DN-S3500 also offers all the usual features, plus MP3 support.
Some of these features — also found on other premium Denon tabletop CD/MP3 players — include:
Next Track Function with Cross Fade: This allows the DJ to can search for a song by name on his download CD (without interrupting playback) and crossfade seamlessly to that file for a smooth non-stop mix.
Seamless Loop to Sampler Copy: CD/MP3 seamless loops can be copied across to the sampler, even while it's playing! This adds a new level of creativity such as disc exchange during Sample playback, CD scratch overlays with the sampler and many more cool tricks.
Two Way CUE Search System: As stated above, this supports both the Denon and Pioneer cueing methods.
DENON DJ