Version 1.6 of Voxformer is now available. Voxformer is a multi-functional vocal channel strip plug-in in PC VST format. Combining several professional quality processing modules, Voxformer was designed to be a comprehensive solution for all your vocal processing needs – be it spoken or sung vocals.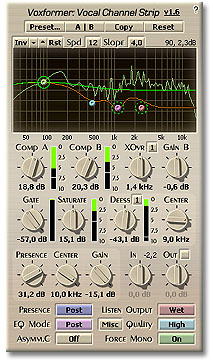 This version features several minor issue fixes. It also features an extended frequency selection range for the Presence module: it has been extended down to 100 Hz. This allows to use 'presence' technique in the lower frequency range. This–in turn–usually allows to boost overall body of the voice – especially if it sounds weaker than desired. Check out the "More Body To Voice" preset for the demonstration of this approach.
Voxengo Voxformer features:
* Two built-in vocal compressors
* Switchable crossover (2 types)
* Gain reduction meters
* 4-band equalizer
* Real-time FFT spectrum analyzer
* Asymmetric compression
* Vintage saturation module
* De-esser module (2 types)
* Presence boosting module
* Noise gate module
* High quality mode
* "A-to-B" comparisons
* Mono-to-Stereo, Stereo-to-Stereo processing
* Any sample rate is supported
* Factory presets
* 64-bit internal precision
* Native assembler DSP code
A DEMO is available at the Voxengo website.