Once again, AAS rises the bar in the recreation of the classic Rhodes and Wurlitzer electric pianos. Not only Lounge Lizard EP-3 comes even closer in terms of authenticity but it also preserves the action and feel of the originals.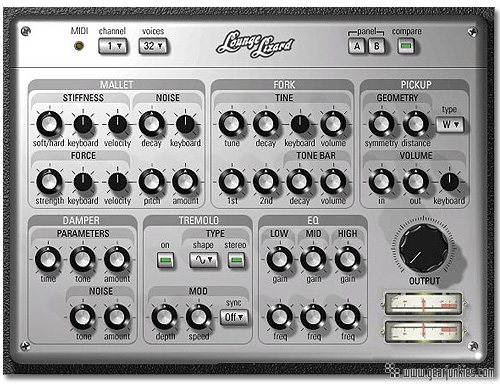 Once you get your hands on Lounge Lizard, that elusive electric piano sound becomes a reality—you'll be proppelled into ins­pirational space. Building up on their physical modeling know-how, AAS have come up with the refinements that takes one of the most impressive and unanimously acclaimed software ins­trument of the industry further ahead.
What's New in Lounge Lizard EP-3:
* Presets The brand new library fully exploits the refinements on offer and covers all your electric piano needs.
* Effects The high-end effect section has been extended with tremolo, wah, chorus, phaser, delay, reverb, and EQ—making Lounge Lizard a complete and self-contained electric piano solution.
* Pickup model Two pickup types are now available for a wider character range: electromagnetic (Rhodes™) and electrostatic (Wurlitzer™). In addition, scaling has been added for even volume across the entire keyboard.
* Fork model The new and improved Fork model adds upper harmonic content for an even more authentic sound.
* Damper model The improved Damper now closely interacts with the Fork and provides superb dynamic response.
* Audio Recorder The integrated audio Recorder captures inspired moments on the fly.
* Micro-Tuning Custom tunings are now possible with the added support for Scala files.
Lounge Lizard EP-3's MSRP is US$249; Upgrade from Lounge Lizard EP-2 and EP-1 is US$49; Upgrade from Lounge Lizard EP-2 and EP-1 is free for copies unlocked after September 1st. Lounge Lizard EP-3 will be available in October 2005.