FOUR WHEEL DRIVE. TRAKTOR DJ Studio 3 featuring 4 decks and countless innovations. Native Instruments proudly presents TRAKTOR DJ Studio 3 – the next generation of professional DJ software! The largest technological leap forward since TRAKTORs introduction, version 3 brings with it numerous innovations for DJing at clubs and parties. Some of the most thrilling new features are the expansion from 2 to 4 playback decks and an emulation of the new, much sought-after Allen & Heath Xone:92 4-channel club mixer. Five professional, tempo-synced effects and an even easier operation will see you mixing hypnotic DJ sets. The integrated access to the Beatport Online Music Store, the worlds leading internet dance music specialist, means you will always have just the right track to hand. The new version is set to rock the clubs as of November.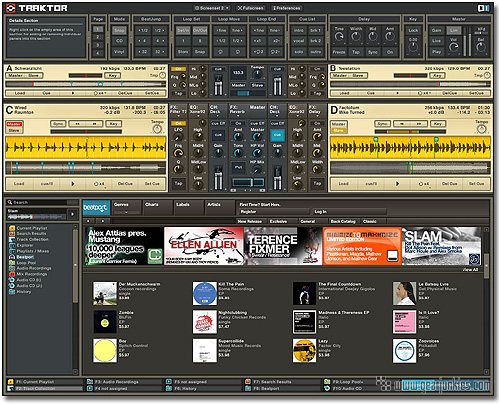 The most important new features:
* Four Decks – Four decks offer new creative freedoms: Mix up to four tracks simultaneously or drop in extra loops – and everything remains tempo synchronized. Fattening tracks up with additional drum loops, sound effects or atmospheres as well as the complete de- and reconstruction of tracks is now easier than ever.
* Cause And Effect – Included in TRAKTOR DJ Studio 3 are five innovative, tempo-synched DJ-effects created by leading sound designers: Delay, Reverb, Flanger, Beatmasher and LFO-assignable filters.
* Integrated Beatport Music Download Store – Visit the Beatport.com online music store from within the TRAKTOR DJ Studio 3 database browser.
* Professional 4-channel DJ Mixer emulation – The heart of TRAKTOR DJ Studio 3 is an excellent emulation of the ground-breaking Allen&Heath Xone:92™ 4-channel club mixer. In direct cooperation with Allen&Heath nearly all the features and the sonic properties of this mixer have been implemented in the software.
* Interactive Waveform Displays – Pioneering mouse modes turn TRAKTOR DJ Studio 3's waveform displays into advanced control surfaces, offering DJs unparalleled interaction with the track. The pointer snaps to beats and cue-points, while the zoom level can be simultaneously adjusted with the scroll wheel.
Pricing and Availability:
Traktor DJ Studio 3 will be available in November 2005 for for a suggested retail price of $ 279 / 249 Euro from authorized dealers and in the NI Online Shop. An update for users of Traktor DJ Studio 2 will be available for $ 99 / 79 Euro.
For more information, visit the Native Instruments Website or check out our Traktor Dj Studio 3 product page (link below).