Allen & Heath has entered the digital mixer domain with the launch of the iLive digital mixing console system. Developed for live sound applications, iLive's 'ground up' design features an extremely flexible architecture with large-scale audio distribution and control. iLive is designed to bring an analogue feel to digital mixing and draws on the company's extensive experience in live sound and digital technology.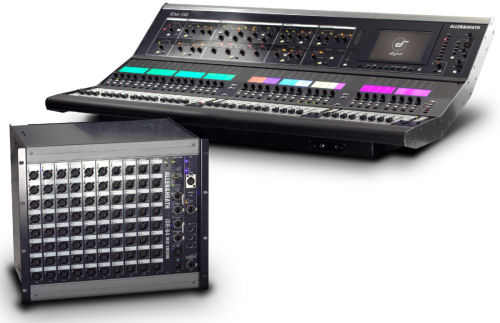 The heart of the system is the iDR-64, a 19″ rack-mounting modular mix engine providing 64 channels into 32 mixes, which can be assigned as auxes, groups, matrix and main outputs. The iDR-64 is a stand-alone mixer comprising the 8-channel audio interface cards, DSP processing, and communication ports. The unit is controlled via an Ethernet network and can be connected to a variety of controllers, including the new range of iLive control surfaces, Allen & Heath's PL range of remote units, third party devices, or a laptop/PC.
Two EtherSound ports are provided for low latency remote audio distribution, connection of an additional unit to expand the system to 128 channels, FOH/monitor signal splitting, and the connection of multi-tracks and other EtherSound-equipped devices. All channels and mix masters have EQ, dynamics and delay processing, with on-board FX, and an option for a built-in 32 channel speaker processor. Branded plug-ins are being developed for the future.
There are three iLive control surfaces – the iLive-112, iLive-144, and the iLive-176 – designed to reflect the feel of an analogue console. The faders are motorised and grouped in 3 sections, each with 4 banks, giving up to 176 control strips on the largest size surface. There is a multi-colour backlit LCD display above each fader for labelling and colour-coding channel information. The channel controls for preamp, filter, gate, EQ, compressor and limiter/de-esser are laid out across the top of the surface on rotary controls with LED indicators, while a colour LCD touch screen presents a graphical view of the processing and access to the automation and set up screens. Audio at the surface is handled by 8-channel analogue or digital I/O cards for up to 16 inputs/outputs.
Allen & Heath's MD, Glenn Rogers, commented:
"The brief I gave the R&D team was to create a system that bridges the gap between analogue and digital audio. iLive is the culmination of Allen & Heath's 35-years in analogue mixing, combined with almost a decade's experience of digital design for the installation market. We've dedicated 50 man-years of R&D time to arrive at an affordable digital console range that's expandable, flexible, and simple to navigate. For the first time in the pro audio market, all the benefits of digital mixing are accessible to live performance engineers across the industry."
Road testing of the new iLive system will commence in autumn 2005, with availability in spring 2006. Pricing: TBA