A significant leap forward has been taken in DJ technology with the launch of Allen & Heath's pioneering mixer/controller, the Xone:3D. The unique design is the amalgamation of a high performance DJ mixer, a top spec multi-channel USB soundcard, a comprehensive MIDI control surface, offering a performance workstation that integrates all the tools of the modern DJ.
Xone:3D top: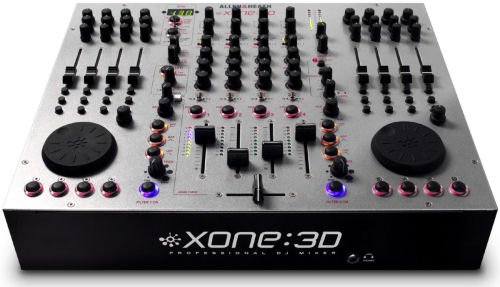 The mixer section is derived from the industry-standard Xone:92 and Xone:62 designs, featuring 4 multi-input stereo channels, 3-band total kill EQ, a comprehensive cue system, 2 stereo returns, headphone monitor with mix/cue control, and high quality dual rail faders. 3D contains the Xone range's trademark VCF filters, offering low-pass, band-pass, and high-pass selection; resonance and frequency filters; plus there is an assignable LFO with depth control. The master section has 2 FX sends with pre/post fader selection, and there is a VCA crossfader.
The USB soundcard has eight channels, arranged in stereo pairs, which can operate in two modes – 6 channels from a PC and 2 returns, or 4 channels from a PC and 4 returns. Using individual professional audio standard 24bit stereo converters with an audio sampling rate of 48kHz, the card's design guarantees the best possible sound quality from laptops and PCs. The soundcard can be fed from the main mix, FX1, or direct from the channels, and features a SPDIF optical and coaxial interface. Also, the USB connection sends and receives both audio and MIDI data to and from the PC, and can be used to update firmware and set mixer configuration data.
There are dedicated MIDI control sections either side of the mixer, with a total of 8 dedicated control faders, 16 rotary controls with centre detent, 10 encoders, 50 switches, and 2 custom jog wheels with micro switches, which can be mapped for use as navigation controls for DJ software such as Ableton Live and Traktor. Xone:3D can send a total of 105 different MIDI control messages from the dedicated control sections, audio channel faders and crossfader, to the 3D's MIDI out socket and via the USB interface to the PC.
An automatic beat detector synchronises the MIDI clock to the main mix, the FX2 mix buss, or can be disabled to allow the beat to be manually tapped-in. The 3D also has connections for a footswitch controller and a gameport socket for a standard analogue joystick that can also be used as a second MIDI output.
The progressive DJ's, Chris Liebing and Richie Hawtin, have been consultants and beta testers during development of the Xone:3D.
"Technology is leading us into a very exciting and new form of DJ'ing," comments Chris Liebing. "Allen & Heath's Xone:3D is a huge step forward into that future. More fun for the DJ, more fun for the crowd!"
The Xone:3D will be shipping later in the year, pricing TBA.