Gemini Sound Products is proud to introduce the iCFX Professional Touch-Sensitive CD Player. With this new unit, Gemini combines the functionality of the CFX-20 with the style and grace of Geminis i-Series product line.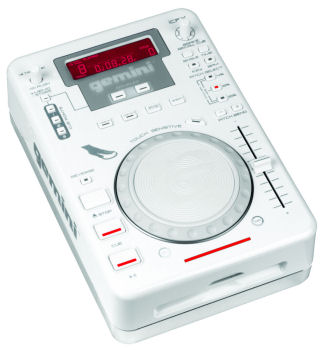 The iCFX comes standard with a special Touch-Sensitive Jog Wheel that responds instantaneously to the slightest touch. The current track can be controlled by simply placing one's fingers on the center jog wheel plate, rolling it forward, or rolling it back – just like a piece of vinyl! The Jog Wheel is also capable of switching between Jog Mode and Pitch Bend mode, which is toggled through a convenient button located to the top right of the Jog Wheel and controlled by its outer ring.
"When we introduced the CFX-20, we knew that such a great product needed to be released into the i- Series line," explained Alan Cabasso, President of Gemini Sound Products, "Its impressive technology was deserving of such an attractive casing, and so the iCFX was born!"
As with the rest of the i-Series product line, the iCFX sports an attractive white glossy casing, chrome backing and a bright red LCD screen with red backlit LED buttons. The iCFX also comes equipped other special features including two 8-second Sampler Banks, three Fly Cue Points, Seamless Loop capability, BPM counter, Key Lock, and up to 100% variable pitch control. Other features include Single Auto-Cue and Continuous Play Modes, three Time display modes, rotary Brake control, and 10-second Anti-Shock protection.
With an MSRP of $499.95, the CFX Professional Touch-Sensitive CD Player promises to debut October 2005.