PSP Audioware have releases the 608 Multidelay plugin. The PSP 608 MD is perhaps the most fully featured delay plug-in available on the market (VST, AudioUnit, RTAS and HTDM for Mac OSX and VST, DirectX and RTAS format for PC).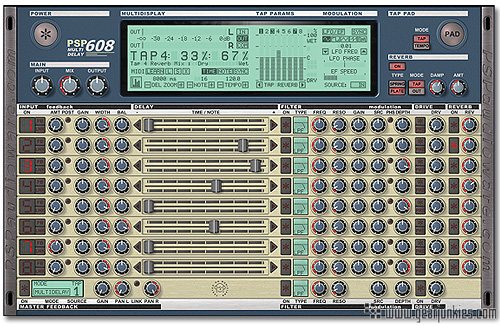 PSP 608 MD
Each tap has selectable feedback, stereo image and position, delay time, multimode filter, modulation, drive/tape saturation, and reverb. Moreover, the feedback and drive can be placed at the beginning or end of the signal chain for even more sound design options! The modulation section consists of both an LFO and Envelope follower, and the tape saturation algorithm is taken from our renowned mastering processors. And of course all this can be done at any bit depth and sample rate up to 24-bit, 192kHz, and be fully automated via MIDI and any host sequencer.
Next to the release of the 608 Multidelay, PSP released an important update to the PSP StereoPack. PSP StereoPack version 1.8 introduces several improvements over previous versions including high sample rates support and compatibility with the newest systems and host applications.
Changes 1.8 vs 1.6:
*Sample rates up to 192kHz supported
*Automation improved
*New dot look of the PSP StereoAnalyser's goniometer
*PSP StereoAnalyzer: Green indicators of the meters now offer a true RMS response. They are calibrated so that the RMS indication is equal to the peak indication for the sinus wave signal.
*Improved metering ballistics in all PSP StereoPack plug-ins.
*Several other minor bug fixes to gain compatibility and reliability
*New 'sliders' design
*Support for OSX AudioUnit, VST and RTAS format
*Support for Windows VST, DirectX and RTAS format
Due to the development effort required for these improvements in the PSP StereoPack, for the first time in its 5 years history (since 1.0) PSP needs to charge for this upgrade and rise the price of the product.
More information on this upgrade is available at the PSP Audioware forums.