Steinberg announced today that Studio Case II, its new budget music production package, is shipping to its resellers worldwide. Studio Case II is a combination of Cubase SE3, Steinbergs new entry level music production software, with SE versions of six high quality VST instruments. Available for both PC and Macintosh computers, Studio Case II provides a full set of upgradeable, entry-level music production software.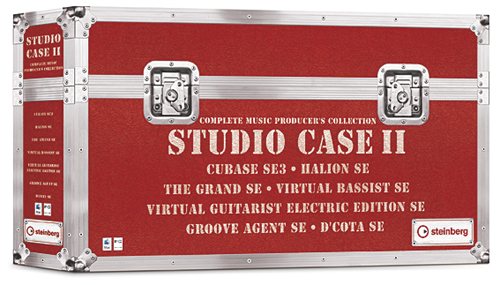 Cubase SE3 is Steinberg's new budget production software for composing, recording, editing and mixing music and audio, incorporating the same 32-bit floating point audio engine, automatic latency compensation and advanced user interface as Steinberg's Cubase SX3. Studio Case II also includes SE versions of some of Steinberg's most successful VST instruments: Groove Agent, HALion, The Grand, Virtual Guitarist Electric Edition and D'cota. A brand new Virtual Bassist SE version of Steinberg's new bass player VSTi provides dynamic, lively bass grooves suitable for a huge range of musical styles.
Studio Case II is priced at €279. For more information and details check out our product page (link below).