Way Out Ware has perfected the software synth version of the ARP 2600, called the TimewARP 2600. They have created a remarkable digital simulation of the 2600s fat analog sound while keeping all of the original control features. Plus, some new goodies have been added, making the TimewARP 2600 even better than the real thing!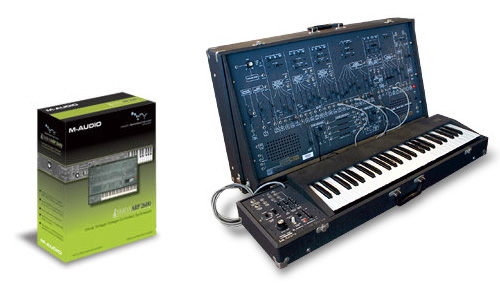 The ARP 2600 synthesizer helped define the music of an era. Edgar Winter's "Frankenstein," The Who's "Who Are You," The Tubes, Jean Michel Jarre, Deep Purple, and on and on. Only 3,000 ARP 2600's were produced between 1970 and 1981, and they've been trading hands among collectors for thousands of dollars ever since.
Features:
– Benchmark Filter Design
– Extensive Patch Manager
– Use As Part Of An Effects Chain
– Trigger From MIDI Tracks
– Evolving Textural Patches
– 8 Voice Polyphony
The TimewARP 2600 box version is now available worldwide anywhere M-Audio products are sold! The box release contains the RTAS, AU, and VST plug-in and standalone versions on CD for Apple OSX or Windows XP as well as complete owners manual and tutorials.