WWAYM updated Dynamix to v1.5 and released a Mac OS X version. Available as a VST plug-in, Dynamix is a completely new way to waveshape your sounds. You can use it as a supreme compressor or a mastering limiter, you can distort your sound and if you use more instances of Dynamix at the same time, you can use it as an EQ or as a multiband compressor. Enlarge the stereo space with the stereo knob, give your sound the feeling, you always wanted.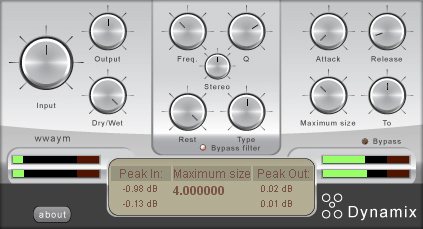 Features:
– Volume managing section with input/output/dry/wet section
– 12db/oct filter wich is able to fade between Lp, Bp, Hp modes
– The unfiltered signal can be mixed to the processed signal
– Main section, containing everything what you will need to process your signal
New in this version: input and output VU meters, input and output peak displays, refined GUI. A free DEMO version is available at the WWAYM website.