BFD Lite comes with the Lucite Kit from the original BFD (often cited as BFDs best kit), the Tama Star Classic Kit from BFD XFL and the 808 Kit from the BFD 8 Bit Kit expansion pack.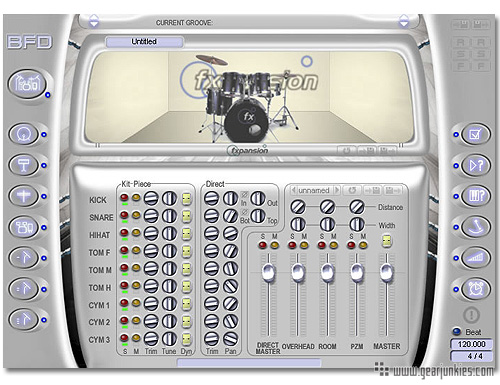 BFD Lite gives you your own drum studio, with complete control of the 3 drum kits plus additional hats, snares and cymbals. Every drum is recorded from eleven different mics positioned around the kit and room so you can mix your drums by blending the mic sources just like in a real studio. BFD's high quality drum sample library has an unparalleled degree of realism. For each type of drum type in each kit, there are a number of different styles of 'hits'. Each of these 'hits' is sampled at up to 20 velocity layers, resulting in drum parts of superior detail and expressiveness.
BFD Lite was recorded by Steve Duda (NIN, Pitchshifter, A Perfect Circle) and Grammy-award-winning engineer S. Husky Hoskulds (Fantomas, Tom Waits) at top L.A. studios Eldorado Recording and The Sound Factory. BFD also incorporates a comprehensive library of ready-to-use MIDI Grooves with different styles, feels and time signatures. The library features both programmed grooves and MIDI recordings of real drummers, including top UK-based session drummer Chris Dagley (Jamiroquai, Lalo Schifrin, Chaka Khan).
For more information please visit the Plugorama website.