Cakewalk, developer of the leading music and sound software for Windows, announces Dimension Pro, Cakewalks first simultaneous Mac/PC virtual instrument release. Dimension Pro has a $359.00 (MSRP), about 300 Euro, and will be available at select music and sound retailers around the world November 2005.
First released as an integral part of Project5 Version 2 in April of this year, Dimension is a critically acclaimed synthesizer that combines real instruments with advanced synthesis, giving you endless sound possibilities. For Dimension Pro, Cakewalk has added a two DVD sound library. The immense sound library that ships with Dimension Pro makes it the ideal go-to instrument for preset addicts, while it's deep editing and sound generation capabilities have a natural appeal to sound designers.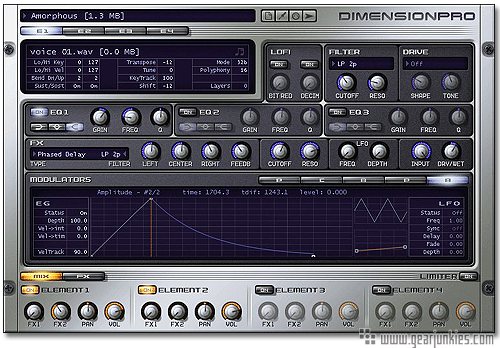 Dimension Pro offers an abundance of vital, usable sounds that range from pristine realistic acoustic instruments, thumping basses, cutting leads, to complex, evolving atmospheres. This wide tonal range can be attributed to both advanced sample mapping and the physical modeling of components, such as piano body/damper simulation and speaker cabinets, along with a powerful sound-sculpting engine with analog sound generation that lets you mutate and recompose any sound you might imagine with flexible, graphical Envelope Generators, tempo-syncing LFOs, and vector mixing.
Dimension Pro Highlights:
* Mac formats: AU, VSTi; Windows formats: DXi, VSTi
* Sophisticated, world-class instrument
* Two DVDs of professionally produced multi-samples and grooves
* Over 1500 sound programs
* Mix and layer up to 4 stereo parts per program
* Easy editing of graphical envelope generators and LFOs
* Multi-stage effects sections and filters deliver production-ready sound
* Vector Mixer for real-time sound morphing
* Drag-and-drop MIDI into host application for groove manipulation
Massive Library – Two DVDs of professional sample content and over 1500 meticulously crafted sound programs provide all the sounds you'll ever need. These sounds include: guitars, grand pianos, basses, synth basses, analog-style leads, pads, atmospheres, electric pianos, orchestral strings, dozens of stellar evolving textures, and more. Dimension Pro also includes a large library of production-ready drums with groove programs, which can be dragged into the host application as a MIDI file for further manipulation and control.
Advanced Synthesis Capabilities – Dimension Pro provides ample synthesis capabilities for the serious sound designer, or anyone who wants to take Dimension Pro's sounds and make them their own. Waveguide generators and wavetable oscillators generate analog-style sounds; each program provides up to 20 graphical Envelope Generators for intuitive yet precise control of your sound envelopes; 20 host tempo-syncing LFOs per program, each with 21 shapes, ensure musically useful modulation over all parameters.
Expressive Sound – Dimension Pro offers a wide array of expressive features that bring out the nuances of each sound program, making it a joy to play. These features include: multiple velocity and keyboard switching and crossfading; advanced and unique sample playback techniques, multi-looping, sample switching, and legato on MIDI Continuous Controllers; enhanced acoustic simulation is achieved via physical modeling components, such as piano body/damper simulation.
Multi-stage Effects Section – Often the difference between a good sound and a great sound can be found in the application of effects. Dimension Pro's multi stage effects section offers insert and send effects for each part including bit reducer and decimator, 16 filter types, 5 tone drive modes, 3 stackable parametric EQs, 6 delay types, 3 chorus types, LFO filters, and autopan; room simulation and modulation effects provide the finishing touch.
Geared for Performance – Dimension Pro's MIDI Control Matrix lets you map MIDI controllers to all of Dimension Pro's functions in a manner useful for live performance, allowing you to control modulation depth and smoothness. A Vector Mixer, which can be controlled by mouse or MIDI, lets you morph sounds by gliding between the different elements of a program.