Image Line Software (developers of FL Studio music creation software) announces the release 2.0 of their Sytrus hybrid synthesizer. First to be launched as a VSTi and DXi plugin version, then as a FL Studio plugin in the upcoming FL Studio release 6.
Sytrus 2 features 4 new filter types, enhanced editing in the harmonics section, and a brand new arpeggiating system built-in multipoint envelopes. All this bundled with over 350 presets. Sytrus provides endless sonic capabilities through 6 operators combining FM, RM, plucked and subtractive synthesis (no samples inside), and a user interface preserving your screen real estate.
The rich implementation characteristics of Sytrus allow for an extremely wide range of sounds and even entire loops in a single preset, made possible by the fully customizable envelope system.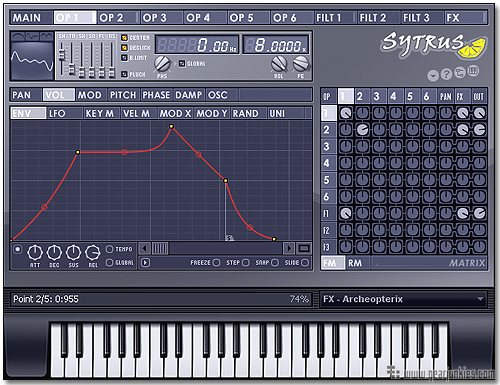 Sytrus 2.0 new features:
– 4 new filters for a total 12×5 different filter types.
– Arpeggiating system built-in multipoint envelopes, through ingenious arpeggiator break-points, allowing multi-oscillator arpeggiated sequences never heard before. No longer use fixed rhythmic patterns, adapt them to your composition.
– Improved editing in harmonics editor, allowing to lock individual harmonics, and exporting/sharing waveforms as audio files.
– Audio files can now have their volume envelope analyzed & turned into a multipoint envelope.
– User can now select different band types for the main equalizer.
– Lots of cool new presets.
A FREE Trial version (only save disabled) is available from the download section of our site www.sytrus.com.