TrackPlug 5 is an all-in-one channel strip processor which features a 10-band EQ, brickwall filters, dual compressors, gate, sidechain EQs, clean/vintage compression modes, and a peak limiter. Still boasting Wave Arts impressive CPU efficiency, you can bring out the best in each of your tracks. The applications for TrackPlug are virtually endless: shape the tone of an instrument, fix sonic problems, bring dynamics under control, clean up noise problems, add some punch or vintage warmth to a track, de-ess a vocal track, and much more. The stunning, re-designed user interface puts the power of TrackPlug under your control.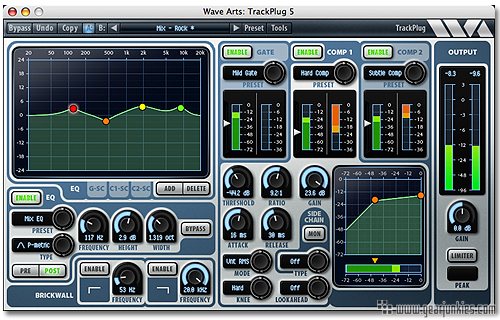 Features:
* 10 bands of professional, 64-bit EQ
* Dual compressors and a gate
* Assign any EQ band a parametric, low/high shelf, low/band/highpass, or notch filter
* NEW- Four new EQ filters: analog low/high shelf and resonant low/high shelf
* NEW- Clean (for transparent sound) and vintage (for analog colorization and warmth) dynamics modes
* NEW- True brickwall lowpass/highpass filter section
* NEW- Sidechain EQ support on each dynamics section (gate, compressor 1 and compressor 2)
* NEW- Dual EQ comparison sidechain modes for precise de-essing
* NEW- Peak limiter
* NEW- Stunning new visual interface design
* NEW- Brand new presets and enhanced preset management, including preset control for each section
* NEW- Up to 192K support
* Adaptive RMS/Peak detectors reduce undesired low-frequency distortion in Clean mode
* Comprehensive metering makes it a snap to set dynamics thresholds
* An adjustable lookahead delay ensures you won't miss an attack
* Accurate gain reduction meters show exactly what's happening under the hood
* Choose between soft, medium, and hard compressor & gate characteristics
* Automate any control via compatible host applications
* Mono or stereo
* Comprehensive native support-
o Mac OS X – AU/VST/MAS/RTAS
o Windows – DX/VST/RTAS
A demo is available at the WaveArts website.