NUSofting has announced Modelonia, a new physical model hybrid synth VSTi for Windows. A demo version (0.9b) is currently available ahead of the planned full release of version 1.0 on November 20th.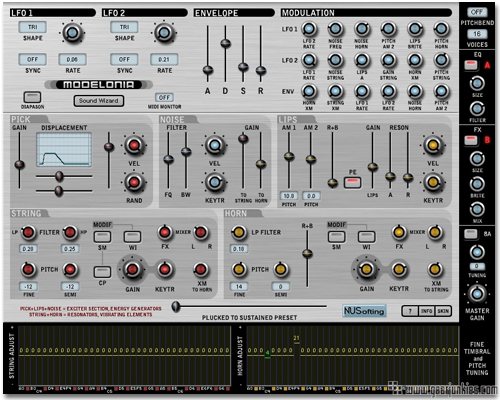 Modelonia is a novel physical-modelling synthesizer which uses a hybrid of two distinct model 'types' – a plucked-string model and a blown-bore (i.e. trumpet-type) model. Each model may be used simultaneously, and the signal path allows cross-modulation between the two models for more interesting and complex tones.
Modelonia is not simply an emulation of acoustic instruments; advanced physical modeling has been used to enable the creation of lively and expressive new sounds and harmonic textures. The interface has been designed to be as easy and helpful as possible for newcomers to this synthesis technology, without compromising Modelonia's sound design capabilities.
The full v1.0 release is scheduled for 20th November, 2005. Until that date users may preorder the plugin for $79. Pre-orders will receive the full version on the date of release. The full price on release will be $145, but a discount price of $99 will be available for registered users of HarpTime, Microrock, Peti, EMM Knagalis and EVE.