Unitonic today announced the upcoming release of Aurora 2.0, a groundbreaking new version of their advanced plug-in synth for Pro Tools|HD Accel systems. Sporting a redesigned interface and a host of features never-before-available on any synthesizer, Aurora 2.0 offers new sonic possibilities with the dynamic interaction and expressive capabilities of a traditional instrument.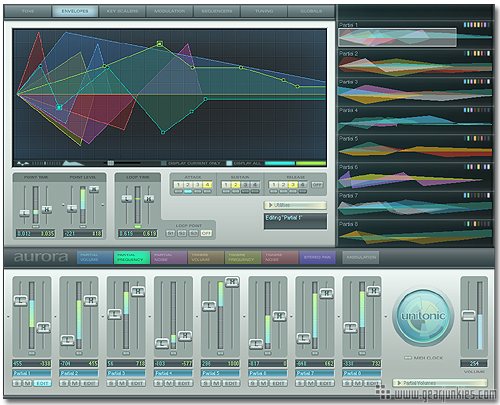 Unique to Aurora 2.0 is the introduction of Noise Modulation into the synthesis chain. For the first time, noise can be used to fundamentally distort sound waves and quickly create extraordinarily rich tones, from subtle turbulence effects to fields of tunable, broadband noise. Aurora is the first synthesizer to offer this method of tone generation and it promises whole new categories of sounds for performing musicians and sound designers alike.
Another class of features unique to Aurora 2.0 are the Parametric Sequencers for creating MIDI sync'd rhythms that directly control the output of the tone's main parameters. Each 32-step Sequencer has its own speed, loop point and lag-time, so they can run independently, even in separate time signatures for complex polyrhythms. The Parametric Sequencers can be used in countless ways to add distinctive, beat-based effects to specific aspects of a tone.
In addition to its new sound generation capabilities, Aurora v2.0 offers a redesigned and expanded visual interface, with multiple edit modes and richly detailed graphic displays. Combining elegant form with well-considered function, Aurora v2.0 sets a new standard in interface design for digital musical instruments.
For a limited time, Unitonic will be offering a pre-release version of Aurora 2.0 at an introductory price of US$499. [The official MSRP for Aurora is US$699.] Currently, Aurora supports Digidesign® Pro Tools|HD Accel systems running on the Macintosh platform only. An update supporting the Windows XP platform is scheduled for Q1 2006.
SYSTEM REQUIREMENTS:
Mac-based Digidesign Pro Tools TDM system with HD® Accel hardware, running Pro Tools 6.0 or newer software. A PACE iLok USB Smart Key (purchased separately) and an iLok.com account are also required for licensing.
For more information, visit Unitonic's website.