Okay, Okay…we do not do home keyboard gear. But we where the first who showed you photos of the Yamaha Tyros, and a few years later Yamaha announces the Tyros2, so for all the keyboard junks out there: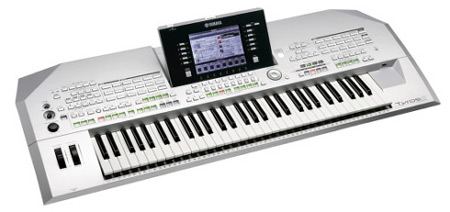 he new Yamaha Tyros2 is a never-ending source of inspiration–for playing, recording, learning, creating and performing. The richly expressive, authentic sounds and the powerful, dynamic rhythms get your creative juices flowing like no other instrument.
With the intelligent, easy-to-use performance features and the new audio recording functions, Tyros2 is a treasure chest of inspiration for all your musical applications–from songwriting and demo recording to arranging and live performance. Tyros2: inspired by nature, perfected by technology, created for your personal inspiration.
Yamaha introduces a completely new level of sonic realism and musical expressiveness with a brand new technology: Super Articulation. Just play as normal and Super Articulation delivers MegaVoice authenticity to the melody that you play, adding unique performance characteristics of each instrument – for example, the expressive finger-slides on guitar, or the breathy, legato phrasing Tyros2 Voice Info of a saxophone. Never before have stringed, wind and brass instruments–played live with a keyboard–sounded so convincing or so real! And these voices can be played right away without any special technique.
However, to help you get the most out of them, Tyros2 has an online Information window that provides performance details on each voice–that pops up at the touch of a button.
One of the most impressive new features of the Tyros2 is the Hard Disk Recorder. It allows you to directly record the sound of the instrument to an optional installed hard disk drive as digital audio data–for pristine, absolutely noise-free audio quality. Naturally, you can record your voice, guitar or other acoustic and electric instruments as well, and mix them with the Tyros2 sound.
The recording is a simple stereo file, but you can freely overdub additional parts as desired–with little to no loss of sound quality. Moreover, if you have a computer and audio editing software, you can also edit the sound file as needed, and then re-import it to Tyros2.
Tyros2 has a professional FSX keyboard action that is smooth, fast and responsive and is the only Arranger Workstation from Yamaha that is equipped with both initial touch and after touch, so that you can dynamically and expressively control the level of the voices with your playing strength, just as on an acoustic instrument.
The Yamaha tyros 2 will be shipped in November and has a retail price of € 3630 incl VAT