TC Electronic started shipping the first in a series of System 6000 stereo plug-ins for Pro Tools|HD. VSS3 Stereo Source Reverb (EUR 795 retail ex. VAT) is now available as a TDM plug-in and will be distributed by TC Electronic.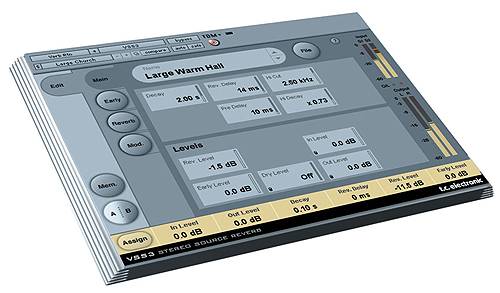 VSS3 is a Stereo Source Reverb, which uses Virtual Space Simulation (VSS) to accurately recreate the natural characteristics of acoustic spaces. This is accomplished through extensive processing whereby the early reflected signals are manipulated separately from the decay or reverb tail of the signal. It is these separate components that are responsible for the character, localization and spaciousness of a room.
The VSS3 algorithm is made up of nearly 800 parameters, all of which have been condensed into a simple user interface with clear choices at all levels. Industry-standard presets and customizable focus fields know from System 6000 are included to facilitate easy start-up. The built-in preset converter allows for seamless import of VSS3 presets from TC's widely acclaimed System 6000, which contains some of the most sophisticated algorithms for mixing and mastering.
As one of the very first 3rd party developers to offer TDM plug-ins for Pro Tools|HD, TC Electronic began pioneering developments that are now continued with the release of System 6000 stereo plug-ins. By offering VSS3, MD3, DVR2, and NonLin2 as TDM plug-ins, TC Electronic adds new processing options to the Pro Tools|HD platform, which today provides a processing infrastructure powerful enough to host these algorithms.