Way Out Ware has recently released version 1.15 of TimewARP 2600 for both Windows and Mac OS X which now includes the VSTi and AU effect versions for OS X and VST effect versions for OS X and Windows.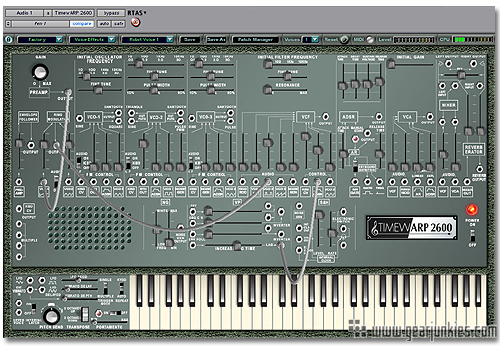 – Windows changes since v1.10:
* ProTools 7.0 feature support. This version supports the many enhancements made to the RTAS standard.
* Improved session saving/loading. Patch name, and patch based MIDI map information are now saved properly with sessions and recalled when the session reloads.
* The Patch Manager now exits much faster regardless of the size of you patch library.
* VST effect is now available.
– Mac OS X changes since v1.10:
* VST, VSTi and AU effect versions.
* Full support for ProTools 7.0 (with Mach-O plug-in).
* Improved saving of session data. Now all MIDI controller information related to the patch is stored with the session.
* Corrected an error in the AU version that caused cables to disappear when sessions are recalled.
* Improved performance of Patch Manager.
* MIDI Learn now properly learns PitchBend in AU and VST versions.
* Demo version now works under Logic and supports AU validation when not fully authorized.
* Corrected error in handling MIDI Messages that caused notes to hang periodically.
* Improved velocity response time.
* Velocity is now processed properly when the keyboard is in monophonic, legato trigger mode.
* Improved general screen control update behavior.
* Corrected error in console log regarding Path being closed twice.
* Corrected a bug regarding MIDI patch change request processing.
* Corrected the pitch wheel controller mapping.
* Improved support for Logic. Corrected AU validation issue with Logic.
* Improved MIDI response in Logic.
* Corrected a problem that could cause a crash when loading patches in Logic.
* Removed number key functionality to avoid improper interaction with Logic screen-sets.