FabFilter has released FabFilter Twin, a versatile and powerful synthesizer plug-in for Windows and Mac OS X. FabFilter Twin stands out with high-quality oscillators, extremely smooth and analog-sounding filters, and unique drag-and-drop modulation slots that make complex sounds very easy to design.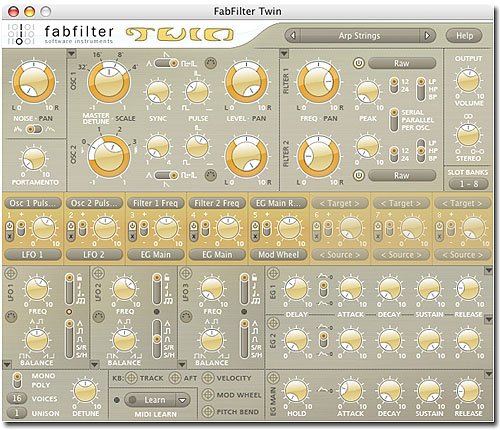 FabFilter Twin contains two pure and solid-sounding oscillators with triangle, sawtooth, and square wave forms. Hard sync, pulse width, phase sync, and stereo panning are provided, together with smooth and evocative polyphonic portamento.
The two independent multimode filters in FabFilter Twin are based on FabFilter's unique digital filter technology with three different filter characteristics, ranging from smooth with moderate overdrive to extremely raw and self-oscillating. Of course, the famous FabFilter One filter is also included. Low-pass, high-pass, band-pass responses and 12/24
dB/octave slopes are available, and each filter can be panned to create stereo effects without phase problems. Different oscillator-filter routings are possible.
FabFilter Twin's 24 modulation slots provide very flexible modulation possibilities. Setting up modulation connections has never been easier: just drag a modulation source to any knob that can be modulated to fill a modulation slot. Modulation slots can be inverted and bypassed, and it's also possible to modulate the level knobs of other slots.
There is no shortage of modulation sources with three LFOs, three envelope generators, and velocity, aftertouch, keyboard track, pitch bend, and mod wheel sources. Each LFO has triangle, square, sine, random triangle, and sample-and-hold wave forms, tempo sync in either straight, triplets or dotted mode, note-on sync, and a wave balance setting. The envelope generators have extra delay and hold parameters. All EG parameters and the LFO frequencies can be modulated.
FabFilter Twin comes with a huge library of more than 500 factory presets. Whether you like designing your own presets from scratch or prefer to browse through the factory patches to get that perfect sound, FabFilter Twin fits your needs!
Other FabFilter Twin features are: 24-voice polyphony with unison, stereo processing of oscillators and filters, sample-accurate MIDI handling, and smart parameter interpolation that ensures responsive yet smooth parameter changes. MIDI Learn lets you control FabFilter Volcano with any MIDI keyboard or controller within minutes, simply by turning knobs in FabFilter Twin's user interface and on the controller.
Twin is priced at $129 (Euro 110), introductory offer ($99) is available. More info on the Fabfilter website.