With the all-digital UREI 1601 Series already receiving huge acclaim worldwide, Soundcraft have released a third model in the range, the 1601E, which has a comprehensive digital Effects section built in. The 1601E joins the 1601 and the 1601S series of user-friendly high performance DJ mixers (the latter having a 2-bank, 24-bit sampler section).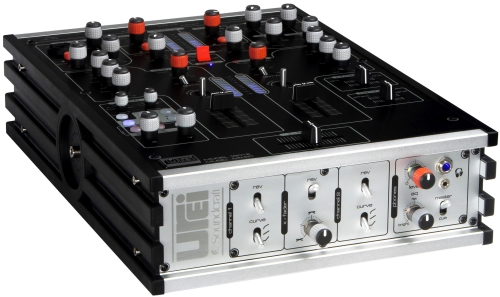 The UREI 1601E Effects section is built around a core of five effects (filter, delay, pan, cutter and flanger), but also has a set of 25 combo presets in five banks, which allow DJs very easy access to a range of unique chained effects sounds. For example, one preset could include a combination of filter, flange and delay effects. The effects can be individually assigned to each channel, and a bpmfx cross-fader allows the DJ to select the desired degree of effect and original sound with a wet/dry mix.
Two effect parameter controls provide a unique way of modulating key parameters of each effect currently selected, plus there are five selectable effects speeds from 1/4 to 2/1.
A separate three-band isolator allows the DJ to select which frequencies of the music pass through the effects section (LF, MID or HF).
UREI's powerful bpm analysis engine automatically synchronizes the effects to the track bpm making the effects very easy to use allowing the DJ to concentrate on the effects parameters in the mix. Tap mode allows the DJ to manually set the effects bpm by tapping it in (very useful on tracks with no detectable bpm like scratch records and acapellas.)
All the standard features of the 1601 are retained of course, such as user friendliness, robust design, connectivity for six inputs, unique UREI Exciter section, 3-band isolator EQ, headphone EQ, adjustable channel fader curves both pro and standard output connectors and of course the legendary Urei sound.