Octirama 5.1 Dynamics Processing for TDM. Octirama is the first full-featured dynamics processor for 5.1 surround mastering for the Digidesign TDM environment. Octirama incorporates sophisticated four- and five-band processing for each of five channels plus sophisticated bass management for precise control of peaks and loudness.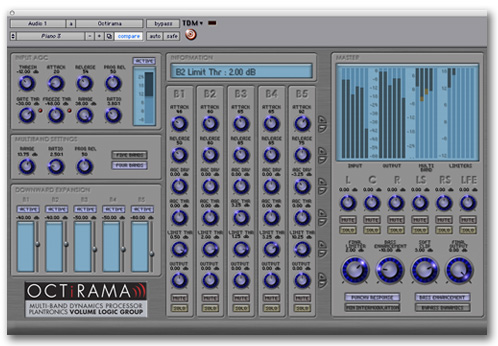 Developed by Plantronics Volume Logic Group using patented techniques to provide DSP efficiencies allowing a full-featured dynamics processor to run on a single 56000 chip. Features for each of the 5 surround channels include an input AGC, four- or five-band dynamics processor, five in-band peak limiters, band mixing, and a final peak limiter.
Over 40 simultaneous meters provide detailed information on gain reduction, downward expansion, and output levels. Unlike other multi-channel dynamics processors, Octirama's processing algorithm preserves the surround image.
System Requirements: Mac OS 10.3 or later running Pro Tools 6.4 or later. Pro Tools HD system with HD Accel card.
Pricing: $495 (Euro 410). For more information please visit the Cycling'74 website.