With the X2, Numark goes the same way as Gemini: a turntable and CD player all in one.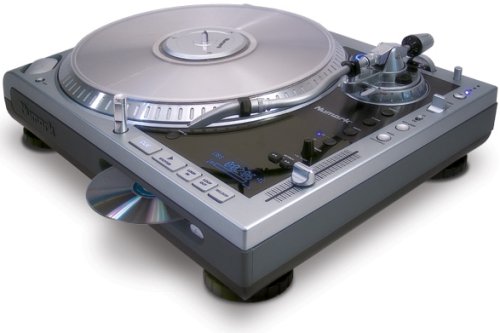 With 4.7kgf-cm of torque, Numark's X2 benefits from the industry's highest torque direct drive motor—providing the stability and durability professionals demand night after night.
Featuring adjustable pitch control and support for both 33 and 45 RPM vinyl records, this exceptional turntable employs an ultra-precise aluminum tonearm with cue, height, and anti-skate adjustments, and accepts straight or S-shaped tonearms by means of its interchangeable tonearm system.
With its 12-inch anti-drag aluminum platter designed specifically to reduce friction and its solid core construction that fights vibration and unwanted noise, the X2 is designed for years of trouble-free operation.
Specs:
-Numark spindle with vinyl interlock record for CD control (Patent Pending)
-12" vinyl record with spindle locking
-±6, 12, 25 and 100% pitch control (motor limited to -80% for vinyl) (DSP limited to +50% for MP3)
-33 and 45 RPM
-Adjustable start and brake speeds
-Forward/reverse toggle with Bleep (bleep cd only)
-Fader/remote start and relay play functions (relay CD only)
-User-upgradeable through Internet downloads
-Line output
-Detachable power and audio connections
-Illuminated output bay
-Full MP3 capability, including anti-shock, scratching, looping and pitch control functions
-Key lock at any tempo up to ±100%
-Seamless looping
-Built-in Beatkeeper™ automatic beat calculation
-2 hot stutter starts
-3,000 cue point memory
-Anti-Shock™ buffer technology