At the NAMM show Numark showed us two new members of their DJ gear line. First is the HDX, the worlds first and only tabletop HD/CD/MP3 player. Second product is the TTUSB, a turntable with USB Audio Interface.

The new HDX incorporates an onboard hard drive loadable via USB 2.0 and a slot load CD drive. It includes a removable 80 GB hard drive in a rugged, extruded aluminum caddy (additional caddies are available from Numark). In addition to supporting CD playback, the hard drive supports playback of MP3, WMA, WAV, Ogg Vorbis, and FLAC (lossless) media formats—ensuring the broadest file compatibility. With support for these compressed media formats, DJs can now dramatically reduce the volume/weight of the music library they transport—making their work easier.
Adding further convenience, the HDX features an onboard Gracenote® CD database to automatically recognize and tag audio CDs. The unit's enhanced search capabilities facilitate easy file location by artist, album, genre, track, plus BPM. The HDX includes support for keyboard connectivity—enabling searches and navigation through the menus via the included keyboard. And with high-speed USB 2.0 connectivity providing full access to the hard drive for both Mac and PC, updating contentshould be a pretty fast process.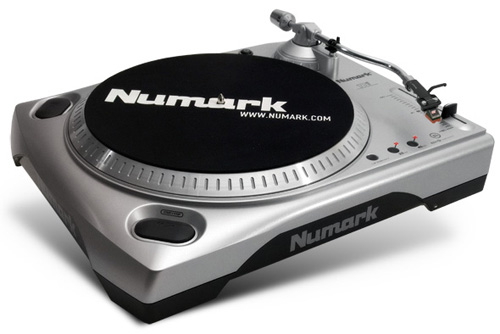 The TTUSB is a unique turntable that should make quick and easy work of digitizing a vinyl record collection. The TTUSB is a comprehensive package complete with all the necessary cables to interconnect with both a computer and a stereo playback system, along with software to remove clicks, pops, and other undesirable characteristics of vinyl.
Numark CEO John E. 'Jack' O'Donnell offered the following thoughts on the TTUSB, "The new TTUSB Turntable provides DJs and music enthusiasts everywhere with a versatile, easy-to-use tool for extracting older recordings from vinyl or cassette and transferring the music to a computer, where it can be cleaned up and then moved to modern playback equipment. With the TTUSB, a vast library of music from the past can be re-experienced and enjoyed."
For more information check out our productpages (links below) or visit the Numark website.