On the WInterNAMM 2006 Roland announed a lot of great new produts. Here is a list:
Juno-G

Look familiar? True to its heritage, the new JUNO-G is affordable and user-friendly. But that's where the comparisons to yesteryear end. This modern marvel packs a studio's worth of sound, sequencing, and audio recording into one amazing instrument. Sharing the same high-powered processor as Roland's famous Fantom-X series, the JUNO-G puts a world of first-class sound and performance features under musicians' fingertips — and allows more sounds to be added via SRX expansion. Songs can be created with the onboard audio/MIDI recorder, all for an incredibly low price!
-Powerful "Fantom-X-quality" sound engine, 128-voice polyphony
-Audio/MIDI multitrack recorder with dedicated transport controls and mixer
-SRX slot for expanding the internal soundset
-Large, friendly display and front-panel controls
-Arpeggiator, Chord Memory, and multi-effects built in
-USB port for MIDI communication, AIF/WAV file exchange, and data transfer
-PC Card slot (which accepts CompactFlash or SmartMedia cards via adapter)
-Cakewalk SONAR LE software CD-ROM bundled
-Invisible infrared D Beam controller
SH-201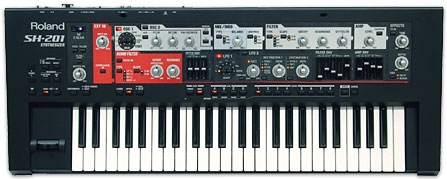 For musicians new to synthesizers, Roland announces the most friendly and fun analog-modeling instrument on the market: the SH-201. For synth pros, the SH-201 will remind them of why they fell in love with synthesizers in the first place. Simply, the SH-201 is a blast to play! It sounds great too, thanks to such features as Roland's famous Supersaw waveform, resonant filter, saturation control, and more.
-Great-sounding analog-modeling synth
-Ultra-EZ front panel is logically designed to teach the basics of synthesis
-External input for manipulating external audio from CD/MP3 players, etc.
-Built-in delay, reverb, and saturation effects
-Arpeggiator adds instant rhythmic motion to sounds
-USB port for audio/MIDI connection to computer
-VSTi Editor software included for computer integration
-Invisible infrared D Beam controller
MC-808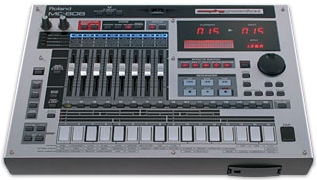 From the company that made "groovebox" a household name comes a remarkable addition to the famous Roland groovebox family: the MC-808. Optimized for realtime performance, the sleek, silver powerstation features eight motorized faders on its surface — a groovebox first! With Roland's most sophisticated processor at its core, the MC-808 possesses top-of-the-line sampling, sequencing, and synthesizer features yet it comes in at a new, low price point.
-8 motorized faders — a groovebox first!
-Same powerful sampling & sequencing features as MC-909
-Brand new sounds and patterns
-128-voice polyphony
-CompactFlash slot for memory backup
-USB for storage and AIF/WAV file import and export
-16-step pad bank, D Beam controller
-Editor software included (PC/Mac)
SRX-12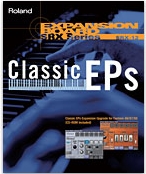 If the current crop of R&B and hip-hop music is any indication, classic electric pianos and Clavs are hotter now than ever — and let's not forget the many other genres that rely on these essential vintage instruments. Introducing the SRX-12: the finest sound library of coveted EPs and Clavs to bear the Roland logo. It painstakingly captures every note of the source electric pianos and every pickup setting of the source Clav. It can be installed in any SRX-compatible Roland instrument. The SRX-12 can be installed in any SRX-compatible Roland instrument (compatibility list below), but Fantom-X owners are in for an extra special treat with this collection, as you're about to read.
-Roland's finest EP/Clav sounds ever!
-Recorded in high-definition with the finest mics and converters
-Every note sampled with multi-tone velocity switching
-Bonus Piano-Mode functionality for Fantom-X6/X7/X8