The ProKeys 88sx stage piano features an 88-note keyboard with high-quality semi-weighted action, allowing the unit to weigh in at only 17 lbs.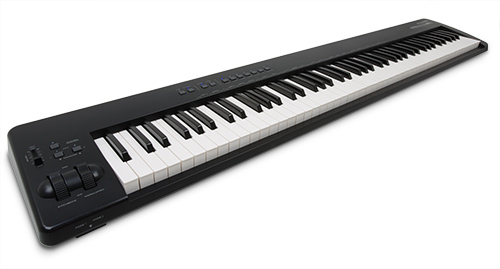 Where most digital stage pianos cram as many as 128 instruments into limited space, the ProKeys 88sx dedicates all of its memory to seven sounds that players rely on constantly‹devoting extra attention to the multi-layer stereo samples of a Yamaha C7* concert grand.
Piano 2 is designed to really cut through in popular music. Electric pianos are covered as well, including a sweet Fender Rhodes, a vintage Wurlitzer and a classic Yamaha DX7. Theres also a percussive Hammond B3‹and the Clavinet has funky totally nailed. On-board reverb and chorus complete the package.
Unlike most stage pianos, the ProKeys 88sx also doubles as a USB MIDI interface and controller for recording and playback with PC or Mac including class-compliancy with Windows XP and Mac OS X. The ProKeys 88sx also incorporates MIDI performance controls including pitch wheel, modulation wheel, two footswitch inputs (both sustain and sostenuto) and expression pedal input. A standard MIDI Out jack allows control of outboard MIDI gear as well. The unit ships with an M-Audio Sustain Pedal.
The ProKeys 88sx includes two 1/4 stereo headphone jacks right up front perfect for practicing or teaching privately. Audio spec highlights include 20Hz – 20kHz frequency response and 108dB dynamic range.
The ProKeys 88sx joins our popular ProKeys 88 to further support M-Audios positioning as a major force in the digital stage piano arena, says Adam Castillo, marketing director at M-Audio. Many players need an ultra-lightweight stage piano without sacrificing great sound quality. The finely-tuned multi-velocity layered samples on the ProKeys 88sx deliver better sound than anything in this price range.
The ProKeys 88sx carries an MSRP of $449.95.