Today Audio Ease announces the release of a Windows-RTAS and Windows VST version of Altiverb, the numerous award winning convolution reverb on the Mac. The new version will be available before March 31 2006 as a free download for owners of Altiverb version 5.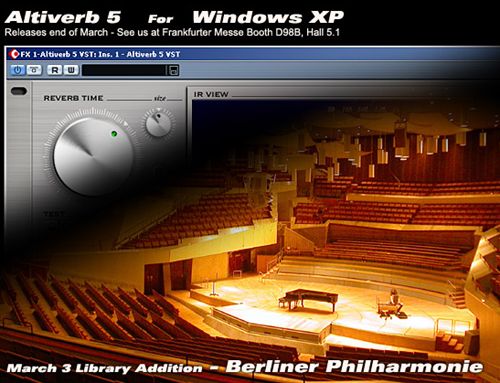 "It has been a challenge to port our trick bag of Mac optimizations, especially those specifically tailored for the Mac's Altivec chip, over to Pentium type processors. But we are glad to say that Altiverb sounds identical on the PC and the Mac, and we are delighted with the CPU efficiency we've been able to obtain. For six years now we have been traveling and recording acoustics, building up this vast library, so I'm really happy that we can offer all those great spaces to Windows users. Not bad timing either: Altiverb has just been awarded 'Best Signal Processing Software 2006' by US Electronic Musician Magazine."
The Windows release kicks off a series of Altiverb format additions slated for 2006: a version that runs on the Digidesign TDM chips will see light, Pro Tools 7 optimized RTAS versions will be released, and of course Intel-Mac compatibility is in the making as well.
This XP version will be shown at Frankfurter Messe Hall 5.1 stand d98b. Suggested retail price is $595 (Euro 500).