V-Lectric is a next-generation sound library for Roland V-Synth and V-Synth XT synthesizers. It brings rhythm creation to a new level with tons of drum and percussion sounds launched into a unique synthesis environment where nothing is static.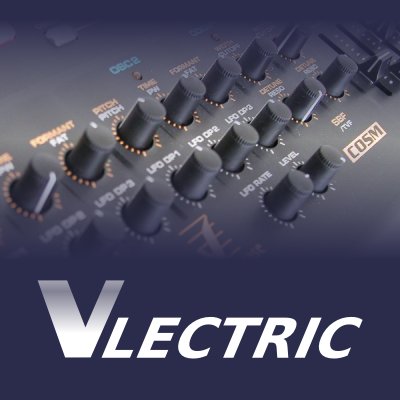 V-Lectric includes 64 waveforms creating using Roland Fantom-S and Roland VC-1 synthesizers, Krok 2401 analog vocoder and ALSA Modular synthesizer. Based on these VariPhrased samples, as well as on analog modeling and COSM processing, featured are loads of rhythm kits ready to give you amazing new beats.
Every kit features pre-made rhythm patterns and you can create your own – as many as you like. And thanks to interestringly pre-assigned controllers each kit allows for mad realtime tweaks great for making new super-sonic variations on the fly.
Gain total control of your rhythms. All in all, V-Lectric for V-Synth series is an amazing new tool for creating fresh intergalactic beats and loops.
Features:
– Drum and percussion sound library that turns your V-Synth into a 21st century drum machine with amazing new sounds and complete realtime tweakability
– 64 sample waveforms including drums, percussion, effects and vocoded sounds
– 16 rhythm kits giving you instant access to a total of over 250 sounds created using analog modeling, VariPhrase and COSM technologies
– Each kit has a pre-programmed pattern and ready-to-tweak pre-assigned controllers including TTP, D-beam, mod lever, knobs and aftertouch
You will find a dound demo here
More info on the Sonic Charger Website