Cakewalk, developer of the best selling music and sound software for Windows, announces the release of Music Creator 3 the latest version of the Worlds best-selling, feature rich, and affordable music making software for users getting started with music creation on a PC.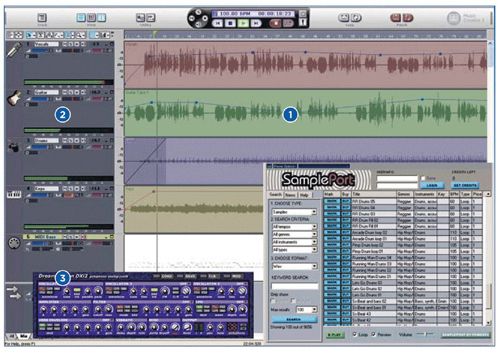 Cakewalk has nearly 20 years of experience in designing powerful and easy-to-use audio and MIDI software for musicians at all levels—from beginners to professionals and has earned the distinction as the World's foremost music software maker. Now, the very same music creation tools found in the award-winning SONAR digital production software have been adapted for ease of use by the general public to make Music Creator 3 the most flexible and feature-rich, entry-level home recording software package ever conceived.
Music Creator 3 puts all of the most frequently used tools right at your fingertips, with an easy-to-use interface and comprehensive video tutorials to quickly get you up and running. No matter what you want to record—guitars, keyboards, vocals, audio samples, integrated virtual instruments, or any other sound source; even notate and print your our sheet music—Music Creator makes it easy to get started and get great results in the art of creating and recording music.
Highlights:
* Create music with up to 32 audio tracks and 128 MIDI tracks using any instrument, vocals, or audio loops
* Play and record using thousands of instrument sounds with included Virtual Sound Canvas and Dreamstation instruments
* Take the mystery out of home recording with a series of comprehensive video tutorials included on a separate CD that explores all of the features in Music Creator 3
* Integrated notation tools to create and print your own musical scores and sheet music
* Scrolling Lyrics Window for singing along with your own creations or popular songs
* Easily identify what is on each track with hundreds of built-in Track Icons
* Includes ACID™-format loop library for creating backing tracks
* Easily create Podcasts and soundtracks for home videos
* Keep perfect time and tune your instrument using built-in audio metronome and tuner
* Detailed editing views including Arrange, Console, Loop Construction, and Piano Roll with Drum Editor
* On screen mixer to seamlessly mix all your audio and MIDI tracks
* Share finished projects using the included Pyro Express CD maker, WAV ripper, and MP3 encoder
Advanced features include:
* Professional audio quality up to 24-bit/48 kHz
* 13 studio effects including EQ, Delay, Chorus, Reverb, and more
* Expand your sound using ReWire™ compatible applications including Project5™, Kinetic™, and Reason™
* Add more instruments and effects from additional DirectX and VST instruments
* Browse and purchase additional audio loops right from Music Creator
* Open environment includes WDM, DX, DXi, VST*, VSTi*, MFX support
Music Creator is available immediately at a price of Euro 39. More information available at Cakewalk website.