Native Instruments today announced KONTAKT PLAYER 2, the second generation of its popular platform for sample-based software instruments. Integrating the powerful functionality of the award-winning flagship sampler KONTAKT 2, the KONTAKT PLAYER 2 platform opens up new creative possibilities for instrument developers that benefit musicians and producers of all styles and genres.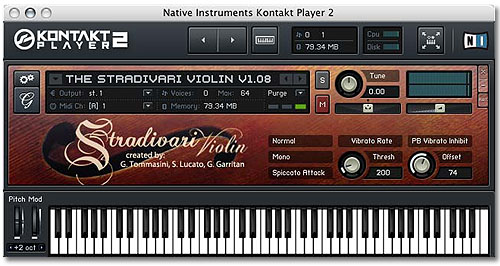 With more than 70 instruments based on KONTAKT technology, and adopted by companies like Best Service, EastWest, Gary Garritan, MakeMusic and Sibelius, KONTAKT PLAYER has become the most successful platform for sample-based software instruments on the market. KONTAKT PLAYER 2 builds on this success and allows for innovative, highly playable instruments that leave existing technological and musical limitations behind.
The first KONTAKT PLAYER 2 instruments to be made available to musicians will be "Stradivari Solo Violin" from Gary Garritan, a breathtakingly dynamic and highly musical emulation of the legendary violin; "Chris Hein Guitars" from Best Service, an outstanding virtual guitar instrument that authentically recreates a vast range of typical playing styles; and "OTTO" from Fixed Noise, a cutting-edge electronic sound workstation designed and produced by avant-garde musician and sound designer Otto von Schirach.
KONTAKT PLAYER 2 is based on the latest KONTAKT 2.1 engine, with the corresponding update for KONTAKT users scheduled for release in April 2006. The new version will add numerous improvements to KONTAKT 2, including an ultra-high quality interpolation mode, a new "Performance View", AKOUSTIK PIANO and BANDSTAND import, additional effects, and a large number of performance and usability enhancements.